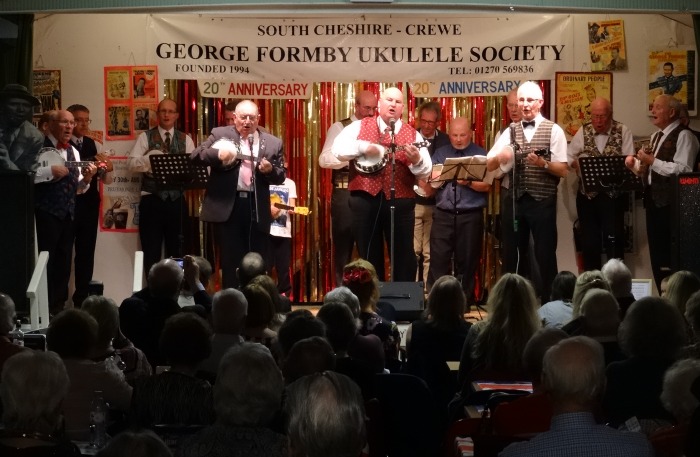 South Cheshire George Formby Ukulele Society has celebrated its 20th anniversary at a concert in Wistaston Memorial Hall.
The event included group and solo ukulele performances, a harmonica solo, plus solo and duet singing.
Performers and guests came from Crewe, other parts of Cheshire and counties beyond.
Special guests included National George Formby Society founder member John Walley and his wife Jill, ukulele virtuoso Peter Moss, and star Elvis Presley tribute artiste Paul Larcombe.
Also present were founder members of the society Brian Edge and Steve Hassall, and from the first concert Pamela and Jonathan Baddeley, and sound engineer and Vice Chairman Colin Wood.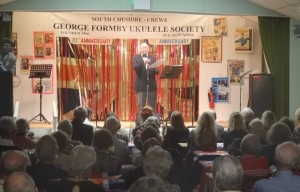 Founder member Brian Edge said: "It was a wonderful evening with a packed house complemented by the ambiance of our only home for the last 20 years – Wistaston Memorial Hall – a warm, friendly and welcoming place.
"Many old friendships were renewed during the evening and a bevy of talented artistes trod the boards to the delight of everybody.
"An excellent buffet was masterminded by our Secretary Mrs Dodd, ably assisted by a team of our members.
"The show was produced by Pamela Baddeley and the Master of Ceremonies was her husband Jonathan, both faithful members of our group from day one."
The society was founded in 1994 and performs a concert at Wistaston Memorial Hall on the fourth Friday of every month at 7.30pm.
Rehearsal sessions, to which new ukulele players are welcome, are at Wistaston Memorial Hall on the third Tuesday of every month.
For details contact Mrs Dodd on 01270 581920.
(Pics and words by Jonathan White)