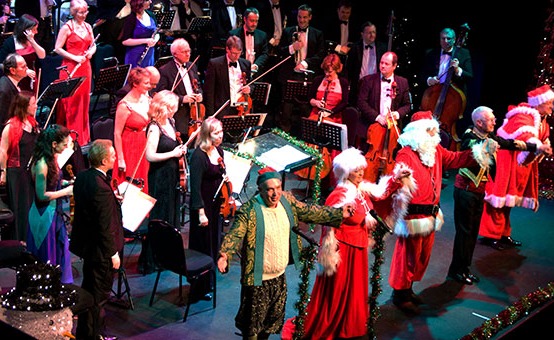 A Christmas classics concert by the British Philharmonic Concert Orchestra returns to Crewe Lyceum Theatre with the Viennese Strauss Christmas Gala on December 6.
The festive evening will showcase seasonal favourites from Viennese composer Strauss, along with selections from composers like Kalman, Lehar and more and a section of traditional Christmas carols.
"The Viennese Strauss Christmas Gala is a highlight of our Christmas programme this year," said Lyceum marketing manager Gemma Whalley.
"We're incredibly pleased to welcome the Gala back for another evening of Christmas classics following last year's sell-out Christmas Gala.
"It's a Christmas treat here in Crewe that is not-to-be-missed!"
The British Philharmonic Concert Orchestra is conducted by Fraser Goulding, led by Jeff Moore and features soloists Marilyn Hill Smith (Soprano), Andrew Forbes Lane (Tenor) and Jeremy Peaker (Baritone).
Performances on the night will include waltzes and songs like The Blue Danube, Klipp Klapp Polka, The Champagne Polka, Thunder and Lightning Polka, and the Radetsky March.
The programme is spiced up with songs from Viennese composers, including numbers from The White Horse Inn, The New Moon, Die Fledermaus, The Merry Widow, The Gypsy Baron and more.
There will also be a rousing burst of traditional Christmas music like Silent Night, O Holy Night, Rudolph the Red Nosed Reindeer, Chestnuts Roasting on An Open Fire (The Christmas Song) and many more.
The show on Saturday December 6 starts at 7.30pm.
A range of Christmas party nights are also on offer, including daytime Festive Feast Christmas Luncheons (10 – 12 December), Christmas Opera Soiree (2 December) murder mysteries Who Killed Santa? (14 December) and Swinging Vegas Christmas (19 December), and the highly popular Fawlty Towers – The Dinner Show on 5 and 10 – 12 December.
For more information and ticket details, visit www.crewelyceum.co.uk or call the Box Office 01270 368 242.