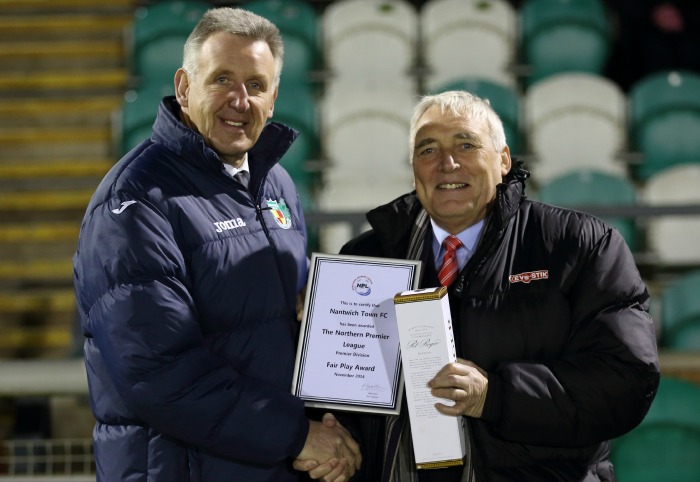 Nantwich Town chairman Jon Gold said he is delighted the Northern Premier League has recognised the way the Dabbers play.
Nantwich were awarded with the Northern Premier League Fair Play award for November.
Mr Gold was presented with the award from Northern Premier League Operations Manager Alan Allcock before the Barwell game this week.
The chairman said: "I'm over the moon.
"I would swap it for more points on the pitch of course. But Nantwich always play in the right spirit.
"The spirit we have here, which we embody into our teams in all of our players, not just the first team,  is why we won the national respect award two years ago because we attempt to play fairly.
"I think that has been recognised yet again by the league."
Mr Gold believes that many of the youth team players look up to the first team for inspiration.
He said: "We want to win fairly and the main thing about Nantwich Town is that we have 24 youth teams.
"They have to be coached the right way and if the first team isn't playing with the right spirit and the right manner then it reflects on the junior teams.
"That is something we don't want to encourage.
"So if the youth team can see the first team doing well and winning fair play awards that is great."
In 2013, Nantwich Town won the national respect campaign,which saw Mr Gold make a trip to Wembley to be presented with the award.
"People would have seen the respect campaign during England games.
"We are the only non-league team to have won the national respect award, it's something which sits very proudly in our trophy cabinet.
"When we received the award it was testimony and reward for all the supporters have bought into it, the parents, the coaches and junior players.
"The award is for all of the UK and you will see signs out around the pitch now showing the award. We are very proud of it.
"For Danny [Johnson] to pick up the baton from it is excellent."