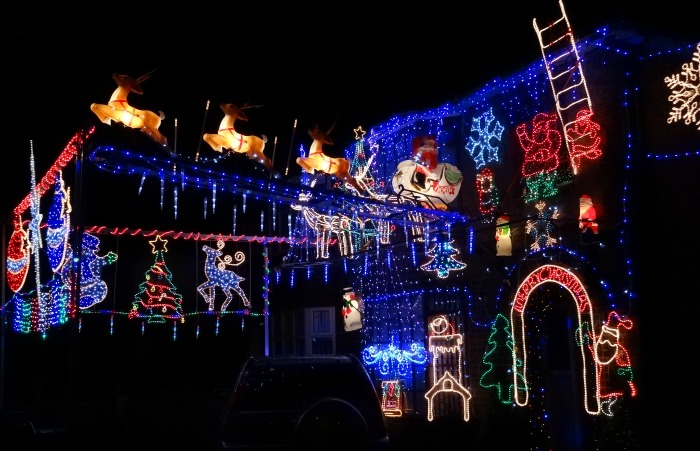 Houses across Nantwich and Crewe have been lighting up in time for the festive season.
These pictures show just a selection of homes where residents have gone to town with their Christmas lights.
The over-the-top decorations, some including large inflatables, never cease to amaze passers-by – despite the large electricity bills they create.
Photographer Jonathan White: "They never fail to bring a smile to my face.
"My favourites so far in Crewe are located in Ravenscroft Road, two houses opposite each other in Carlisle Street, a 20ft lit Christmas tree in the front garden of a house on Jesmond Crescent, Hornbeam Close, two houses opposite each other in Alton Street (Queens Park end), Moreton Road and Vincent Street.
"My favourites so far in Wistaston are in Park Drive, Westfield Drive and Lear Drive. And in Nantwich are in Cope Avenue, Davenport Avenue and Barony Road!
"One house on Salisbury Avenue in Crewe, near the old police training centre off Nantwich Road, is decorated the frontage and an extended area of their house in a wide selection of lights and Christmas scenes.
"They've clearly spent a lot of time and effort in choosing and setting up their displays."
Weston Charity Christmas Light Display, at Carters Green Farm, Jack Lane, Weston, has been wowing visitors for the last few weeks to help raise money for charity.
Graham Witter, a BA (Hons) Business Management student at Manchester Metropolitan University, has set up hundreds of lights and 90 plugs to hook up the displays.
It covers farm buildings, and the yard, and contains a combination of rope lights, LED lights, animated 3D figures, 3D inflatables, together with background Christmas music.
The display is raising money for The Donna Louise Children's Hospice.
Last year, he raised £1,000 and the money was used to help refurbish the children's bedrooms.
To visit the display, turn right off Weston Road (just after Crewe Hall) into Main Road towards Weston, then left into Jack Lane.
The display is on every day until Sunday December 28, between 6.15pm and 9pm.
(All pictures by Jonathan White. More can be viewed here)