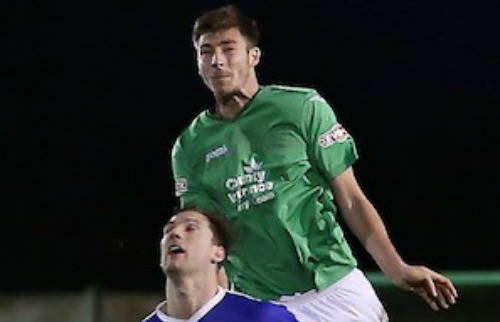 Nantwich Town defender Ben Harrison wanted a new challenge when he joined the Dabbers from Witton Albion, writes Richard Scott.
The defender played more than 200 games for the mid-Cheshire side before making the move to the Weaver Stadium in the Christmas period.
Harrison said: "I loved my time at Witton, it's a great club.
"I felt for me in my life I needed a bit of a change.
"I felt I had gone a bit stale and my form wasn't great and I felt I just needed a change to try and challenge me at a different club – a club where no one really knows me."
Harrison knew one member of back room staff at the Weaver Stadium, having known first team coach Nigel Deeley from their days at Witton Albion.
Harrison said: "I started at college with Nige as my coach.
"I was playing up front then. So I have known him for 10 years nearly.
"He was a big pull as I get on really well with him."
But it wasn't just knowing Nigel one of the reasons why Ben wanted to join.
He said: "It's the facilities and I spoke to Danny [Johnson], he spoke really well.
"They have the 3G pitch at the back for training and the pitch is good and we have a good bunch of lads."
With both Witton and Nantwich in the bottom half of the table, Harrison knows what is needed for the Dabbers to push on and he believes it's just results the team needs.
"I have been speaking to some of the lads and they said they have been unlucky with results.
"I think if we put that battling performance we did on Thursday because we did play the best football and what I believe is that we played really good football in the past.
"Put the two together and it won't belong before we are hopefully mid-table and we are looking up not right behind us."
Following the game, Dabbers boss Johnson described Harrison's performances as "magnificent" in the way he won every header and read the game.
"I am bit critical of myself," admitted Harrison.
"I don't think I played well first half, struggled to get into the game, misjudged a few things.
"But I was proud that we dug in second half all the lads.
"Especially when we got the second and I know what it's like being down there with Witton as they have been down there this year and it's tough.
"When you think you should win a game. So it was great that we battled to the end and got the three points."
(Pic by Simon J Newbury Photography)