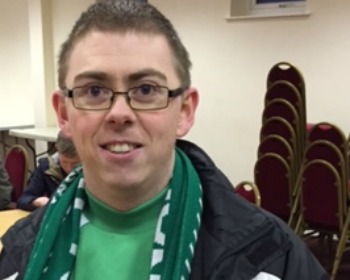 Nantwich Town "assistant manager" Carl Thorpe was disappointed to have lost the Cheshire Senior Cup tie to Tranmere Rovers.
It was Carl's first and last game in the role after winning it in an auction run by the club's supporters club.
And he said working with Dabbers real boss Danny Johnson had been a "fantastic experience".
"It's horrible when the result goes as bad as that," he reflects after the 5-1 defeat.
"If we had lost by a goal and competed more, then I think it could have been a bit easier to take.
"It's all been great – doing the scouting last week, I popped up to see Danny at training on Thursday night for a short while, I have been doing interviews and the programme notes.
"It's better than playing Football Manager on a laptop at home!
"I got to give them a small team talk before the game and tried to pick them up and get a response from them at half time.
"Danny was doing most of the work of course, but I got to at least contribute.
"I wasn't as vocal as I thought I might have been on the side, as I didn't want to interfere too much."
Thorpe also said the players were great with him as he gave them the team talk.
"To be fair it was a poor performance.
"We had a chat before the game about getting stuck in, and giving them a taste of non-league. In the end we just didn't do our jobs.
"I am a little bit hurt – not necessarily for me, as despite the result I have enjoyed the experience it and seen what it's all about.
"However I am hurt for Danny."
But overall for Carl he has fulfilled a lifelong ambition.
"Maybe I can get a win next time, something to really brag about," he adds.
"I can only thank Danny and Nantwich Town football club for giving me this chance."
Johnson joked after the game that the defeat was down to Carl's input and he will be sacking the 29-year-old.
"The buck stops with Carl," he jested.
"It's all [his] fault. That's why we lost the game. There's no chance of him coming in on a permanent basis at all.
"He's had one game, and after one game he's getting sacked!"