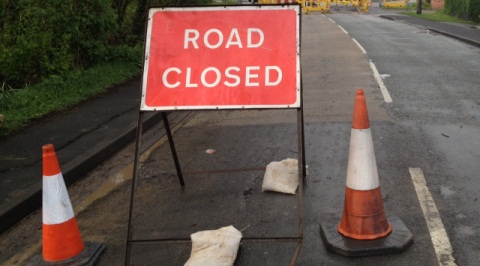 Nantwich residents hit out after the town was left in gridlock by roadworks at a busy junction which are set to clash with one of the biggest public events in the town.
Thousands of motorists have been caught up in chaotic traffic scenes today (Friday January 23).
The problems have been sparked by roadworks on Millstone Lane near the junction and roundabout with Crewe Road.
The works, by Scottish Power, began two weeks ago  and have seen traffic lights along Millstone Lane between the substation and the roundabout.
These works are not due to be completed until January 27.
Meanwhile, police are warning that road closures will be in place on Beam Street, Waterlode and Welsh Row as "Battle of Nantwich" Holly Holy Day takes place tomorrow (January 24).
As well as that, Nantwich Town are playing at home against Trafford FC at the Weaver Stadium on Waterlode.
Now it's emerged more roadworks are set for London Road next week when Scottish Power dig up another section of the carriageway for more high voltage cabling work to be carried out.
There will be traffic lights in place at the roundabout junction of London Road and Hospital Street, outside Churches Mansion, until February 11.
And coupled with M6 motorway closures between junctions 16 and 18, resulting in  more traffic filtering through the town on diversion routes, it all means road chaos for motorists.
It led to an outcry from many motorists on social media. Some were stuck in traffic for over an hour in the town centre, with the one way system along Pillory Street and Hospital Street in a log-jam.
"Which bright spark allowed roadworks on the Crewe/London Rd junction at same time as Holly holy day?? Crazy!" tweeted one resident.
Another said: "Traffic in Nantwich is laughable, good look to anyone stuck on the one way.
"You can't even get in or out of town. Every road seems to be having work done to it."
While another reader asked: "What's happening in Nantwich? Stuck in Hospital Street one way for 45 mins!"
Nantwichnews contacted Cheshire East Council highways, who granted a permit for these works to place on Holly Holy Day weekend, for an explanation.
We are awaiting a reply.