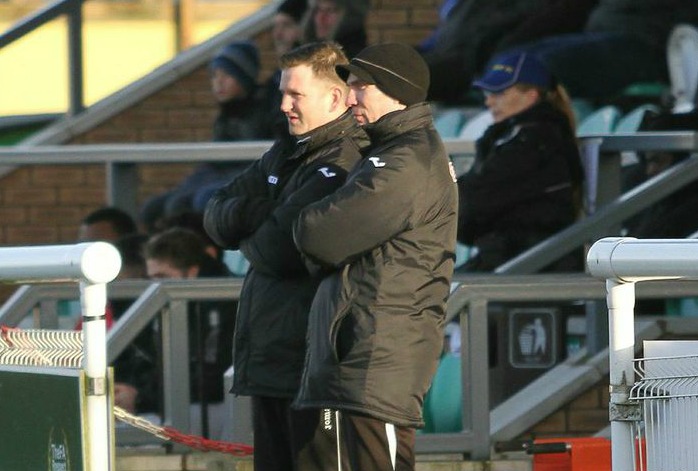 Nantwich Town's new assistant manager Wayne Goodison believes his role at the Weaver Stadium fits him perfectly, writes Richard Scott.
Goodison made his debut in the dugout alongside Danny Johnson and first team coach Nigel Deeley when they welcomed Wayne's former club Trafford to South Cheshire.
Goodison said: "I have known Danny a little while.
"We had a conversation a couple of weeks ago when I left Trafford and then another one this week.
"It seemed the right thing to do.
"He told me what he wanted me to do and it just seemed to fit with what I am looking to do at the moment."
Goodison was at Trafford for over four years and he believes it was weird stepping out into the opposing dugout.
He said: "It was a bit strange and I told Danny that as well.
"I have been with some of those players for four and a half years.
"They are close friends. So it's kind of a bit of a strange one, part of me wanted them to do well as individuals. But obviously I wanted to win the game for Nantwich.
"So maybe a draw was the best result."
One of the players Goodison knew from his Trafford days was defender Cliff Moyo, who joined Nantwich last week.
"Cliff is quite adaptable," Goodison added.
"He can play across the back four.
"We only had him for a short spell of time [at Trafford]. But we watched him quite a lot and liked him.
"He has got good athleticism, he is strong. He will play and will probably add a little bit of steel to the back four, wherever he plays.
"He is a really good addition for Danny and I told him that. When he asked about signing him."
With Nantwich and Trafford both in precarious positions in the Evo-Stik Premier League table, Goodison believes the Dabbers have enough to stay up.
He said: "There is quality there.
"I think there is a lack of confidence, which is understandable.
"It's the same situation as at Trafford have had over the last few weeks.
"But I think there is enough quality in the dressing room to pick up results and certainly finish the season off comfortably."
Nantwich manager Johnson is delighted with securing the services of his new assistant manager.
"Things materialised quite quickly after he left Trafford and he wanted to stay in the game.
"There was no one else I really had in mind to come in and help Nige and I, and Wayne comes with bags of experience.
"He's a lovely man and I think he'll fit in nicely with us."
(pic by Simon J Newbury Photography)