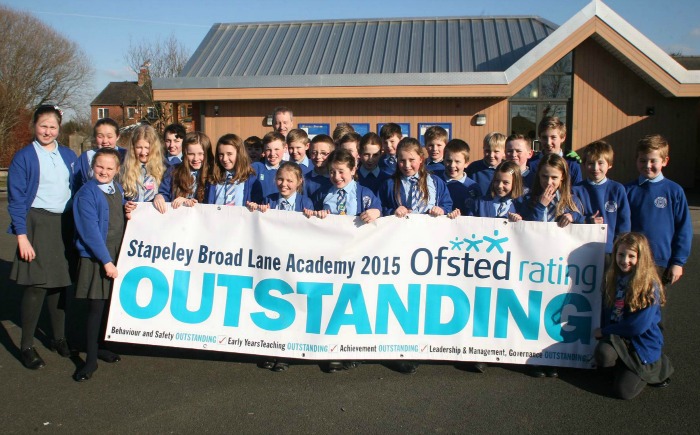 A primary school in Nantwich has been judged as "outstanding" in all five areas, according to the latest Ofsted inspection.
Stapeley Broad Lane CE Primary School was praised by inspectors for its "strong leadership and management".
The Ofsted report also highlighted how children achieve "exceptionally well" and reach "well above average" in reading, writing and mathematics.
Inspectors observed lessons in all year groups and found teaching "inspired pupils" to do very well and "enjoy their learning".
Progress in lessons and in books was scrutinised closely and inspectors found that "pupils make outstanding progress".
The inspection team praised the quality of the curriculum stating that "strengths in subjects such as music, physical education and French enhance the breadth of the curriculum" and "well-planned activities that capture pupils' imagination are very much part of school life".
The Ofsted report also praised the children's achievement during their time at the school.
It stated that "attainment by the end of Year 6 is above the national average at both expected and higher levels in reading, writing and mathematics".
The inspection team found the behaviour of the children is "outstanding" and they show "highly positive attitudes" to learning.
The inspection report also stated that "pupils who require extra support for particular aspects of their work, receive excellent support from teaching assistants".
Lead inspector Geoff Yates said: "What has not been forgotten in setting up the school as an academy is the importance of promoting good relations, having a culture where only pupils' best behaviour is acceptable, the importance of pupils enjoying their learning as well as being challenged by it and the importance of pupils and staff feeling highly valued."
Stapeley Broad Lane headteacher Ian Shackleton said: "I am immensely proud of our school, the children, all the staff, the governors and the many volunteers who help in the school.
"Everyone has worked incredibly hard to ensure we value each and every child, providing exciting and challenging activities to enable them to meet their potential."
Tim Marsden, chair of governors, added: "This is a wonderful achievement and recognises the skills of our staff and their commitment to the highest standards of teaching and learning."