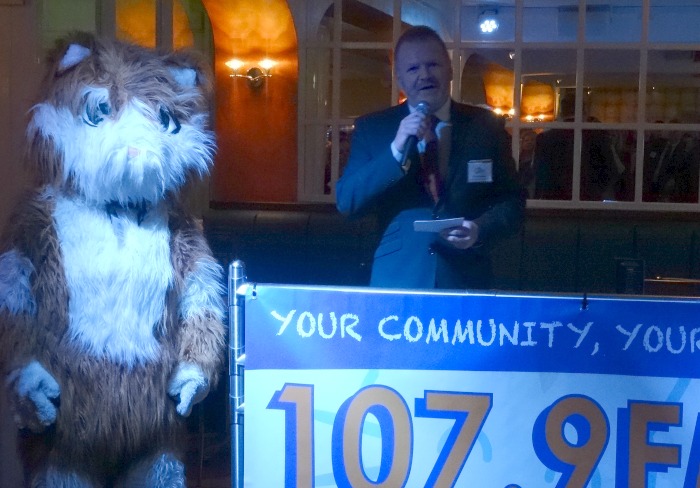 By Sara Royle
"The Cat Community Radio, 107.9 FM!"
Chris Radford, the chairman of The Cat, clearly can't stop himself from saying this phrase with a beaming smile whenever he gets the opportunity.
And you can hardly blame him.
The Cat has been around, in one form or another, for 21 years.
The station submitted its application for a full FM licence in October 2013, and it's only now, well over a year later, that its members are mingling in Harrisons bar in Nantwich to celebrate the station's Valentine's Day launch.
Those two sentences might make The Cat's history sound fairly simple, but it is far from it.
As Chris is keen to make clear in his launch party speech, a lot of graft has gone into making the community's FM dream a reality.
The station has been housed in Frederick House Studios off Beam Heath Way, Nantwich, for the past five years; a "proverbial broom cupboard", as Chris fondly recollects.
The move to South Cheshire College was only made possible by donations from Nantwich and Crewe Town Councils, Cheshire East Council and many other sponsors.
The Mayor of Nantwich Cllr Christine Farrall is in attendance, and she's looking forward to tuning in on Saturday morning. She feels the FM status could have a real positive impact on the local economy.
The new studio has no doubt been instrumental to the radio's FM success, as it's brought with it transmission equipment and state-of-the-art broadcasting equipment that makes you feel like you're "in Thunderbird One!"
Of course, the station would be nothing but useless microphones and sound decks if it wasn't for the team of volunteers who not only produce and present The Cat's content, but who pay a subscription fee to help keep things running on a not-for-profit basis.
For those involved who are looking to pursue a career in media, The Cat gives them the sort of experience that's worth its weight in gold to potential employees.
Chris is able to list a handful of volunteers who are now working for the BBC since their time with the station.
"We're looking for volunteers," he tells me. "And no experience is necessary".
It might seem obvious, but the noticeable thing at the launch party is that this is a room full of friends.
People have flown in from the USA to celebrate the station's success, friends who have known each other for years, and some who are just getting started.
Spirits are high, and after talking to Chris it's easy to see that radio really is what he loves best.
"I want to continue to serve our local community with passion and to entertain them," he says.
With his commitment and the enthusiasm of the team that he works with, there's no doubt he'll carry on doing that and then some.
The Cat FM launches this Saturday February 14 and can be found on 107.9 FM
(pictures courtesy of Jonathan White)