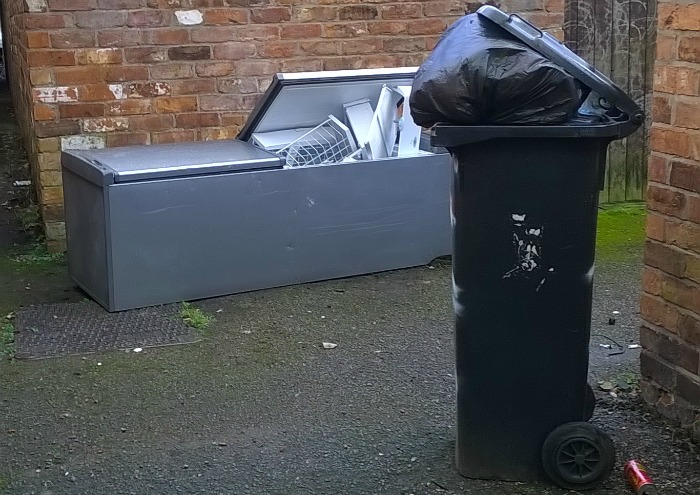 Angry residents in Nantwich are calling for a crackdown on tenants dumping and fly-tipping junk in their streets.
Families in Albert Street and Arnold Street area of the town say items like pushchairs, freezers, shopping trollies, an oven and rubbish bags have been dumped.
They fear it is turning the area into an eyesore and presents a health hazard which could attract vermin.
Resident Geraldine Greenall said: "My husband and I own our property and take care of it and respect the area we live in, unfortunately not all people in the adjoining streets do so.
"This is a big problem which has been addressed by the council previously, but it is evident people who are dumping the rubbish don't give a damn, there are no consequences.
"The rubbish consists of bin liners with clothes and general rubbish, there's been an oven, Sainsbury's trollies, children's pushchairs, and at the moment a large fridge freezer in between Albert Street and Arnold Street."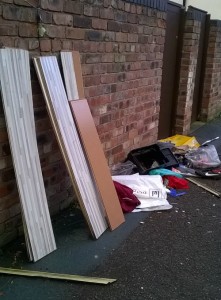 They feel part of the problem is that many properties are now buy to lets.
"I feel landlords should take more responsibility and make strides to ensure people living in their properties adhere to their tenancies," she added.
"This rubbish and fly-tipping is not being dumped by homeowners, they are all sick and fed up with it and something needs to be done.
"I love my home and where I live why should I have to put up with this problem it's a disgrace."
She said they had a meeting at a neighbour's house with Cheshire East Council officials to discuss the problems last year.
"They came up with a strategy which involved sending out a letter to all residents in Albert Street and Arnold Street," she added.
"The letter also included requesting people putting their bins out in the correct place and then returning them when they'd been emptied, because we were also experiencing bins being left everywhere and people using other people's bins!"
Councillor Les Gilbert, Cheshire East Council's Cabinet member for localism and enforcement, said: "Before being contacted by Nantwich News, we had not been made aware of this incident.
"As soon as we were alerted to the problem, one of our community wardens was asked to visit the site to see if there was any evidence that we can use to track down where the fly tipped items came from.
"Ansa Environmental Services will then be alerted to clear it away and we hope this will be done tomorrow (Thursday, February 19).
"We have had no reports of fly tipping in this particular area for a few months. We did undertake some proactive work in the area in October last year which included visiting all properties and leaving some information relating to waste and fly tipping.
"As always, we urge the public to contact us promptly whenever they spot a problem with fly tipping or have any evidence which may help to identify those responsible."