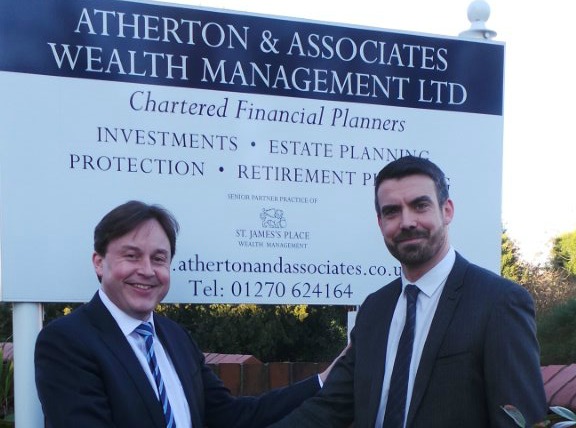 A football fan is hoping to score success for clients as a new adviser with Atherton and Associates Wealth Management in Nantwich.
Jamie Hull has a wealth of experience having been in the financial services industry for 12 years.
Atherton and Associates is an established chartered financial planning practice covering a range of areas including looking ahead to retirement, inheritance tax and estate planning as well as investments.
Jamie specialises in financial planning for healthcare professionals and NHS pensions.
But the 34-year-old will also be concentrating on advice surrounding new Government guidelines on pension auto-enrolment which is being introduced in stages.
Jamie, who lives in Nantwich, walks to and from the office in Park Road each day.
"I'm passionate about Crewe and Nantwich," he said.
"There's a good town centre with the majority of shops still independently-owned."
Away from his desk, he often watches Nantwich Town at the Weaver Stadium.
He used to play football locally but gave it up after the birth of two sons, now three and one.
Last October, he ran the Sandstone Trail – 34 miles from Frodsham to Whitchurch in Shropshire, raising £2,500 for The Wingate Centre in Wrenbury which helps children with disabilities.
Practice director Rob Atherton said: "I am delighted to welcome Jamie on board.
"His knowledge adds to the portfolio of wide experience that we offer."