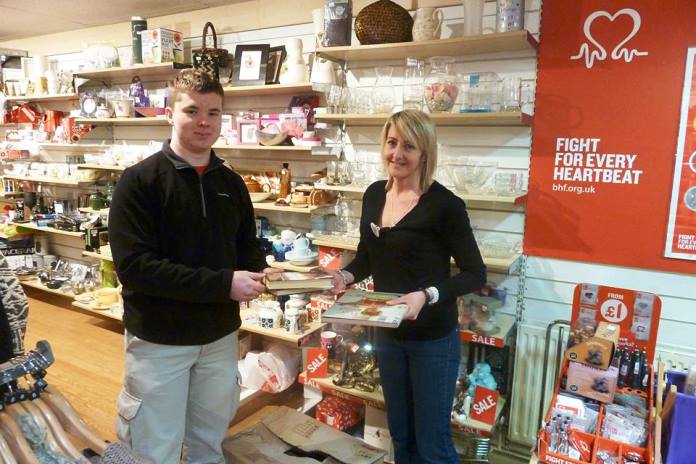 A Nantwich teenager campaigning for more life-saving defibrillators in his school, is calling on people to help the town's British Heart Foundation shop.
Harrison Lunt took two boxes of books to the charity shop on High Street after discovering they are desperately short of donations to sell.
The 16-year-old Brine Leas student has set up a campaign, called "Defibs 4 BL6" as part of an extended project qualification.
Now he and his family, from Aston, are calling on others to donate so BHF can continue essential research and support for heart victims.
His mum Berny said: "When I was in the shop last week they were saying they were really desperately short on stock of books, CDs and DVDs, so we want to help be appealing to people to donate."
Harrison has received praise from many for his project to raise awareness of hidden heart conditions and to fund two additional defibrillators for Brine Leas Academy on Audlem Road.
He has been backed by Sue Dewhirst, who set up the "Cry for Matthew" charity after her own teenage son Matthew collapsed and died of Sudden Arrhythmic Death Syndrome (SADS) during a rugby training session.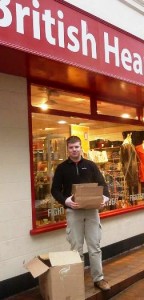 Sue visited Brine Leas to give a talk to more than 200 sixth form students to help Harrison raise awareness of cardiac risk in young people.
Several members of staff also attended including members of the PE department and both Heads of years 12 & 13.
"Her talk was a great success," said Berny.
"Sue's inspiration and emotive speaking led to all students now being 100% behind the initiative and understanding that you may be young and fit, but you're not invincible."
Another aim of Harrison's is to encourage more students to learn life saving CPR skills.
Sue has organised for potentially life-saving heart screening sessions for teenagers to be held in Nantwich and Crewe later this year.
You can support Harrison's campaign by visiting his Defibs 4 BL6 Facebook page.
You can donate unwanted books, CDs and DVDs to the BHF shop at 29 High Street, Nantwich, or call them on 01270 610534.