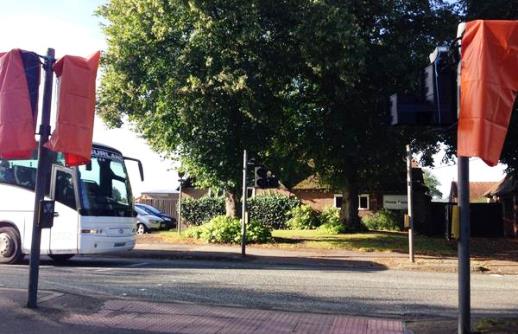 Nantwich residents have re-issued their plea for more road safety measures on the A51 at Reaseheath as part of a new Cheshire East Council initiative.
The council says it is to target resources to "address local community concerns about road safety" under the new scheme.
They are asking residents to send in their views and feedback about local priorities.
And Reaseheath residents have been quick to press for change on the A51, which they say has "miniscule enforcement" of a 30mph zone.
There have been a number of accidents and near misses on the road, where many students cross to get to the college and equine centre.
In one incident, a vehicle smashed into the pedestrian crossing lights (pictured).
Cheshire East say information gathered from residents will be used to develop a new local community road safety programme.
It will also be fed into the council's forward programme of speed limit reviews across the borough.
Cheshire East residents have ranked 'improving road safety' as one of their most important highway priorities, along with improving road conditions and tackling congestion.
Cllr David Topping, Cheshire East Council Cabinet member in charge of service commissioning, said: "We are a listening council that's determined to put residents first.
"So it is important that people tell us what work they would like to see prioritised to improve safety for our road users.
"Writing or emailing only takes a few moments and ensures that we get the chance to meet local needs most effectively."
Other roads around Nantwich that people have expressed concerns over include the A530 Whitchurch Road and A530 Middlewich Road, and the A529 Audlem Road.
Nantwich residents wishing to add their views should email [email protected] before March 16, ensuring the area of interest is clearly identified.