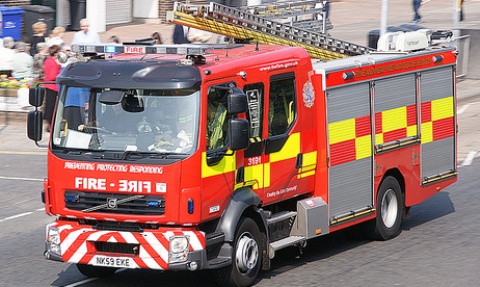 A kitten was rescued by firefighters in Nantwich after it was stuck in a tree – for two days!
The terrified puss had clambered more than 30ft high in the tree on Barony Court, Nantwich.
Officers from the RSPCA tried to coax it down unsuccessfully.
So fire crews from the nearby Nantwich station on Beam Street were called in.
Firefighter Lee Burgess climbed a 25ft ladder, steadied in the strong winds by the rest of his crew, to reach the light grey kitten.
"We attend animal rescues when we're called in by the RSPCA or when there is a risk that people could get injured attempting a rescue themselves," said Lee.
"The RSPCA called us to help get the kitten out of the tree as it was stuck so high up and had been there for two days.
"The poor little thing was scared, cold and hungry so we were pleased to be able to reunite it with its owner."
It was eventually returned safe and sound earlier today (February 26).