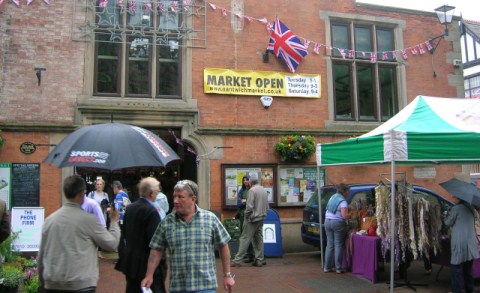 Market traders in Nantwich who pack up early are having a negative impact on the town, other stallholders fear.
Some traders attended a Nantwich Town Council meeting to air their concerns that those who are not adhering to opening hours could be turning customers away.
The market, which the town council took control of from Cheshire East two years ago, should be open Tuesdays, Thursdays and Saturdays.
Helen Prisk, who has run a baby clothes stall for six years, called on the town council to enforce opening times at the market hall.
She said: "The hall has designated days and hours when it is open.
"But unfortunately, we've got some people in the market hall that tend to clear away very quickly, disappearing at 2pm and sometimes even earlier.
"We've still got visitors around at that time, but when they are coming in an seeing the shutters up, it does not look good at all.
"We worry that these people won't come back, because they have come to see a traditional market, for which we are very well known."
She was backed by other stallholders, including Janet Stockton who runs a sweet stall, and Gaynor Kirkham, who has fashion accessories stall.
Gaynor, who has been there 15 years, added: "We know some people won't be happy we have spoken out but we feel it is an important issue."
And Cllr Jon Hopkins, of Nantwich Town Council's Town Plan and Partnership Committee, agreed.
"We are very proud of the market, it's a great asset to the town," he added.
"But we are aware that there at times the opening hours are not being adhered to.
"We've resolved to pursue this to make sure all stallholders adhere to their agreement."