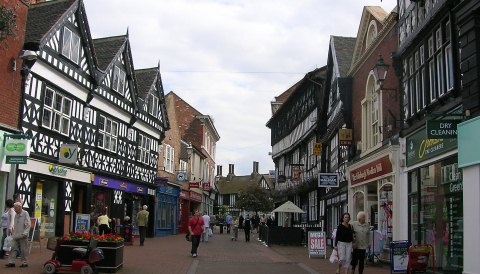 A mum in Nantwich has launched a campaign to open a Youth Cafe for teenagers in the town.
Helen Chesters started the Nantwich Youth Community group because she feels youngsters have been let down by councillors and funders.
She believes this is the cause behind teenagers gathering in groups on the town's streets, sparking incidents of anti-social behaviour.
A number of teenagers have recently been issued with 'yellow card' warnings by Nantwich Police for hanging around the Weaver Stadium, and letters sent home to parents.
Helen, 33, a mother of two teenagers, said: "The lack of facilities leaves our teenagers with no other option than to meet their friends on the streets – the result of which is large groups congregating in areas of the town, occasionally leading to acts of anti-social behaviour.
"I do not condone anti-social behaviour – it causes distress to members of the community, who find themselves to be victims of such acts, there is also huge financial costs including the cost of policing and repairing damaged caused by the young people. We have suffered it ourselves.
"But if groups of young people had somewhere to go they would be spending less time on the streets.
"Young people are often vulnerable members of society and often their behaviour causes them to be in situations where their health and wellbeing may be compromised.
"Their futures can often be affected – such as committing crime resulting in criminal records therefore affecting their education and future employment prospects.
"With a safe secure meeting place for young people we are helping to protect them and their futures and making Nantwich a better community for everyone."
Helen, who helps to run the Wistaston Athletic Sunday youth team, wants to see money invested in a youth cafe in the town as a meeting place for those under 18 to meet with friends.
But she has criticised Cheshire East Council and Nantwich Town Council for a lack of funding in the past.
She believes facilities like the Weaver Stadium, partly funded by grants to open it up to the community, and taxpayer-funded Barony Sports Complex have become inaccessible due to rising hire charges and complaints from residents.
"It costs £50 an hour at Nantwich Town and £28 an hour for a pitch at Barony Park," she said.
"These kids are from backgrounds where they don't have that sort of money. I will defend these kids, I know them, so I won't pre-judge them.
"What the young people of Nantwich say they really want is a venue that they can go to, like a Youth Cafe run by older teenagers for them to meet their friends and to be able to access the existing facilities.
"They don't want to spend their evenings hanging around the town as much as the wider community don't want them there.
"Why is it possible to have this in other areas, but nothing here?"
Steph Cordon, Cheshire East Council's head of communities, said: "The council's objective is to make Cheshire East an even better place to be young.
"We also believe in listening to residents about what they think is needed in local areas.
"Our plans for new community hubs, one of which is planned for Nantwich, are designed to help find innovative ways of providing services for all sections of the community.
"We would be very happy to meet Mrs Chesters to discuss her ideas and to look at ways we might be able to help."
Add your views to Nantwich Youth Community Facebook page here.