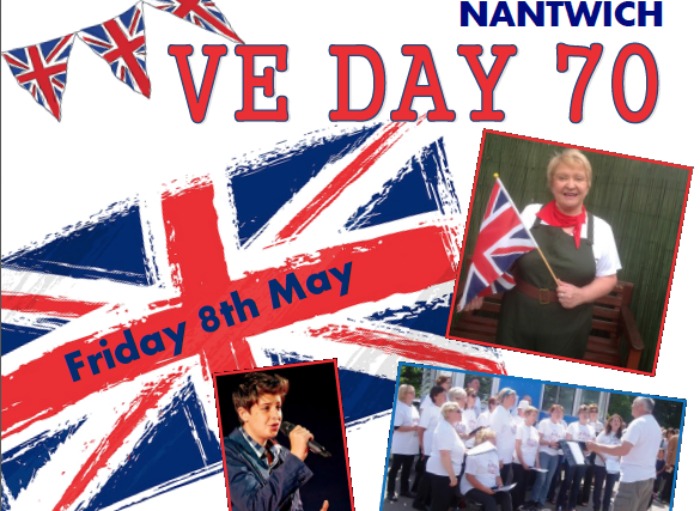 Organisers of VE Day celebrations in Nantwich have unveiled plans to mark the 70th anniversary of the end of the Second World War in Europe.
Commemorations will begin at 12.30pm on Friday May 8 in Nantwich town centre, opening with Redshift Radio and music from the era.
Audiences will be able to enjoy Gilly the Song Bird and a celebratory sing-along, followed by performances from Stapeley Broad Lane and Weaver Primary School choirs.
St Anne's Primary School will also join in with the entertainment and local performer Josh Whittaker will perform a number of songs.
Reverend Barry Wilson, of St Mary's Church, Nantwich Mayor Cllr Christine Farrall, and The British Legion will parade into the town and welcome everyone at 2.35pm.
The British Legion will lead an Act of Remembrance, including the laying of wreaths and a national two-minute silence at 3pm.
The celebration will close with a performance by Funky Choir from 3.15pm.
Nantwich town centre shops have also been asked to take part by decorating their windows.
In the event of bad weather, all entertainment will be moved indoors to St Mary's Church.
Programme of events:
12:30pm – Music from the era with RedShift Radio and Gilly the Song Bird
12:40pm – Celebratory sing-along with Gilly the Songbird
1:00pm – Stapeley Broad Lane Choir
1:15pm – Weaver Primary School Choir
1:30pm – Gilly the Songbird
2:15pm – St Anne's Catholic Primary
2:30pm – Josh Whittaker
2:35pm – Procession of VIP's from St Mary's to Memorial
2:45pm – Welcome by Rev Barry Wilson from St Mary's Church, Nantwich and Cllr Christine Farrall, Mayor of Nantwich
3:00pm – British Legion lead an Act of Remembrance with a laying of wreaths & two minute national silence and Rector blessing
3:15pm – Funky Choir