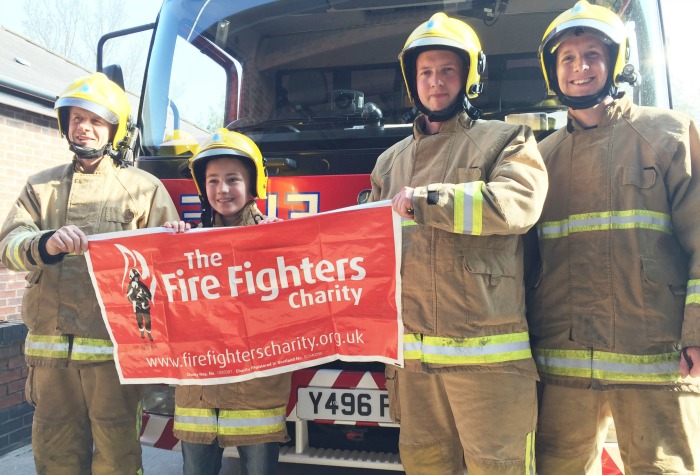 A 12-year-old Nantwich pupil will be swimming across England's biggest lake – to help raise funds for the Fire Fighters Charity.
And Cameron Thomson popped in to Nantwich Fire Station on Beam Street to tell fire crews about his challenge.
The Brine Leas student will be swimming half a mile across Lake Windermere in Cumbria on Sunday June 15.
He wanted to raise money for the Fire Fighters Charity after they helped his gran Linda Alcock, who underwent serious neurosurgery.
Cameron said: "I went to visit my grandma during her rehabilitation at Jubilee House in Penrith, one of the charity's three centres in England.
"It was such a special place, I wanted to do something to help.
"My granddad, Bill, is a retired firefighter and we all know how lucky they are to have the support of the Fire Fighters Charity.
"As swimming is my favourite sport I picked the Great North Swim as my fundraising event.
"The challenge is that I have to swim in Lake Windermere and not in a nice warm pool!
"My dad, David, is also doing the swim and is training hard to try and keep up with me."
Cameron is a regular swimmer for the local Nantwich Seals team.
He will be swimming half a mile in the event as the rules dictate that under 16s are not allowed to do longer distances and have to be accompanied by an adult.
Grandma Linda said: "I am very proud of what Cameron and his dad are doing to help me give something back to the amazing charity that has done so much for me.
"I'd also like to thank Cheshire Fire and Rescue Service for their fantastic support."
Watch Manager Peter Shields, the service's Fire Fighters charity coordinator, said: "For Cameron to take on this challenge in support of his grandma and the charity is amazing.
"We support him wholeheartedly and wish him, and his dad, the very best of luck in achieving their goal."
Linda's story is here on the Fire Fighters Charity website.
Anyone who would like to support Cameron can donate online here.