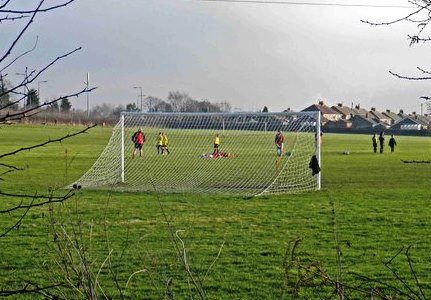 Rising Sun have completed a League and Cup double with a 6-1 win over Santa Maria in the Division One Cup.
Their victory comes after the Division One Title was secured with a 3-2 win at title contenders Leighton.
In the cup final, Rising Sun dominated the early stages and led 3-0 in the first 30 mins with two goals from Steve Pattinson and a strike from Ben Durkin, Santa Maria pulled a goal back before half time.
In the second half, both teams had chances before three goals in 10 minutes settled the game, Steve Pattinson took his tally in the game to four with another goal from Damien Sloan.
The league title was settled in midweek with a 3-2 win at second placed Leighton FC, Damien Sloan getting a hat-trick.
Rory Saunders and Gareth Blackshaw replied for Leighton who will finish the season as runners up.
Santa Maria warmed up for the Division One Final with a 3-1 win at Sandbach Town with goals from Adam Socha (2), and Dominic Latham. Ade Callaghan replied for Sandbach Town.
Wistaston Ath beat Bank Corner 7-1 with goals from Graham Wrench (2), Dan Croft, James Burden, Daniel Cotton, Neil Bowker and Ben McGraw.
Matt Powell scored for Bank Corner.