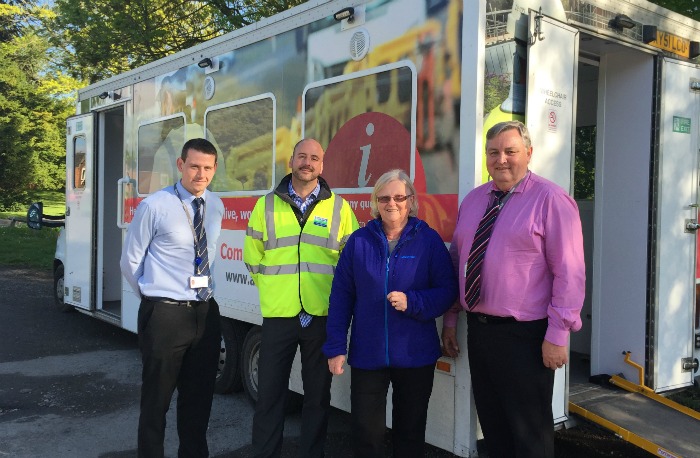 Residents in Nantwich met with Severn Trent Water to discuss the four-month delay to a pipe project under the River Weaver, writes Kirsty Rollings.
The £3.5 million project aims to make the water supply more secure, by installing a pipe that goes under the river, allowing Severn Trent quicker access if needed for repair.
But inspection of the bridge has shows it is in poor condition, meaning repair work is needed to prevent returning at a later date, or losing water supply for up to 50,000 people.
The water company took residence at Shrewbridge Road car park in its Community Hub Bus, to provide a drop-in session for residents to ask question about the project.
One resident who visited was Helen Brockway, of Shrewbridge Road.
She said: "My concerns about this has been the length of time, lack of communication about timing, the area being floodlight and there has also been a thumping noise coming from this area.
"At this point, I phoned Seven Trent, and as a result, the thumping noise has been resolved.
"Coming along today, I have been assured there shouldn't be any more lights, and the project shouldn't take much longer.
"Seven Trent have been helpful and have sorted the noise issue. When I made the phone call, I did get a good response."
Gareth Mead, Severn Trent Water spokesman, said: "We recognised it was about time we came to give an update.
"We let people know recently the project was delayed, and so now is the time to speak face to face instead of just letters.
"We expect to be out of the car park and away from Nantwich by later on in the summer."
The large water pipe being replaced by Severn Trent take water from boreholes in Peckforton to Coopers Green reservoir in North Staffordshire, 27 kilometres away.
(Pic: Left to right – Steve Coventry, customer services for Amey; Gareth Mead; Helen Brockway; Jeff Lord customer services manager Severn Trent)