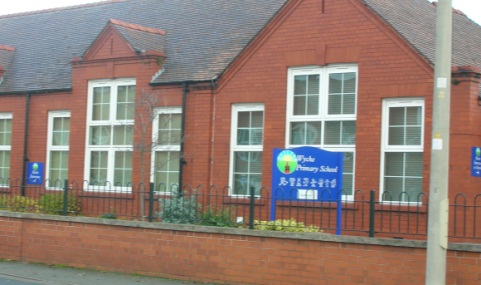 Parents at a Nantwich primary school which was placed in special measures, are being given a chance to rename it.
A letter was issued to all parents of pupils at Wyche Primary School, on Manor Road, outlining how the school will change its image.
When Ofsted ruled it as a failing school, it was forced to become a "sponsored academy" to link it to a successful school.
From September 2015, its sponsor will be Belgrave St Bartholomew Academy in Stoke-on-Trent.
Now parents are being given a chance to choose a new name for Wyche as governors and staff look to improve its status.
They have made three name proposals – The Admiral Beatty Academy, The Nantwich Primary Academy, or Nantwich Primary Academy. Admiral David Beatty was born in Nantwich in 1871.
There will also be a change of uniform.
In a statement, Wyche chair of governors Michelle Gauntlett and headteacher Wei Lee said: "As a collective team, the staff and governors have been and still are working hard to ensure that our school can be the best it can be.
"There is still quite a way to go to reach the goal of being outstanding, but we know that we can and will reach that in the next few years with the support of The St Bart's Academy Trust, who is our sponsoring trust from September.
"Becoming an Academy is an exciting opportunity for the school to have a fresh start.
"We do understand there is a lot of history in 'The Wyche' as there was when the school changed its name from Manor Road School.
"However, we can no longer be called Wyche Primary and Nursery School as we now need to include Academy in our title.
"We know our previous letter caused a lot of discussion, which shows our families and community really care about our school.
"One of the additional ways many schools choose to present a fresh start is to make changes in the way the school looks and feels. One way of doing this is to change the uniform."
Parents are being given three colour options – teal (current school jumper colour), dark green, or navy.
Key Stage Two children will also wear a tie as part of the new look, but the basic uniform of white shirt, grey trousers/skirts, and black shoes will remain the same.
Every child will be given a new jumper or cardigan and a tie for every child in Key Stage Two.
There will be a 50% discount on additional jumpers bought before September.
The current logo, designed by one of the pupils, will not change.