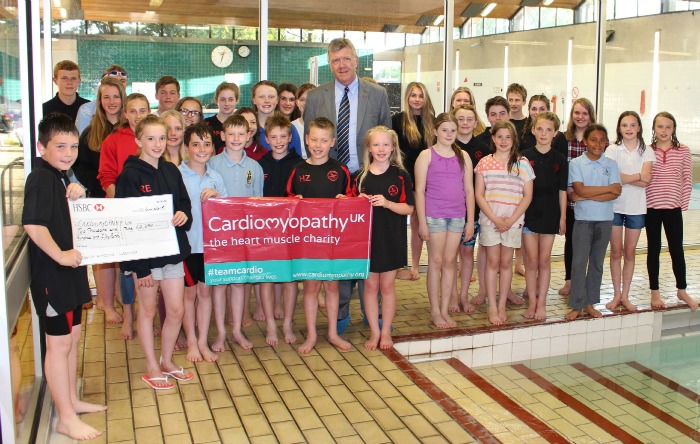 Nantwich Seals members swam a lung-busting 160,100 metres – to help raise more than £2,000 for charity.
The sponsored swim was in aid of Cardiomyopathy UK, a charity which helps patients and families understand diseases of the heart.
Heart disease is often genetic and can go undiagnosed for years and can affect adults and children.
It has affected parents and families who attend the Nantwich Seals swimming club.
A total of 44 swimmers took part over a three-hour period at Nantwich Pool, swimming between 2,000 and 6,900 metres.
And in total, they swam 160,100 metres – or 101 miles – raising £2,350 for the charity.
Katie Woodbridge and Joel Higgins, two young swimmers who raised the most, presented the cheque to the Cardiomyopathy UK CEO Robert Hall.
He said: "This really is a fantastic achievement and we are obviously very grateful to Nantwich Seals for this significant support."
Also at the presentation were local parents Julie and Mark Rees and their daughter Jenny, who has dilated cardiomyopathy, and who run a support group for Cheshire & Merseyside.
A Nantwich Seals spokesperson said: "We are proud and amazed at the individual and collective distances achieved and the huge amount raised for a charity that helps so many but has little publicity."