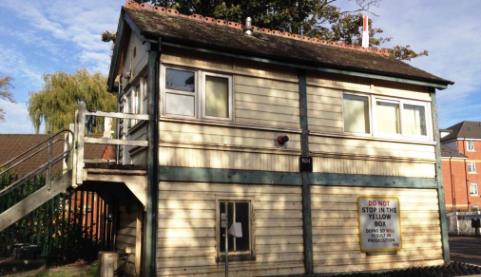 A campaign to save and relocate Nantwich Signal Box has been boosted by a potential new site.
Bosses at Nantwich Marina have now come forward with a proposal to move the structure to their site near Nantwich Aqueduct, off the A534 Acton Road.
It comes as campaigners for the Friends of Nantwich Signal Box group revealed they had a week to rescue it or it would have to be demolished by Network Rail.
Previous discussions to relocate the structure, built in 1948, to land owned by Morrisons supermarket or the car park at Nantwich Methodist Church have fallen through.
But now Sheila Saner, director of Nantwich Marina, believes they could offer a solution.
She told Nantwichnews: "We saw the story and thought what a shame, and time seems to be of the essence.
"We've got places at the marina where this signal box could go.
"We would have to measure up, get planning permission, and approval from British Waterways, and work out how to fund the move.
"But we feel there is scope and potential to do this.
"It would tie in nicely with the transport theme, there is a lot of history there.
"We will arrange to go down and look at how big it is in terms of floor space, but I can think of two or three places around the marina where it could be situated."
Sheila has written to Cheshire East and Edward Timpson MP highlighting her proposal.
Friends of Nantwich Signal Box group, who say they have just a few days to find a solution, say it could cost around £40,000 to move the structure from its Wellington Road location.
They have approached Nantwich Town Council and the Heritage Lottery Fund to raise money.
Tony Booth, a member of the group, said: "We've been trying for the last two years to save it.
"It's a piece of the town's history and would be a fantastic educational centre, too.
"But we are now reaching a critical stage and have had many discussions with Network Rail, Morrisons, Cheshire East Council, and Nantwich Town Council."
Shaun Cafferty, of Nantwich Partnership and the town's retail group, said: "The marina is making itself available for it to be rehoused there.
"If that can be organised and supported, it would be nice to preserve a very familiar piece of our town's heritage!"
Cllr Les Gilbert, Cheshire East Council's Cabinet member for communities, said: "The Nantwich Miniature Railway Society has asked Network Rail to dismantle the box and store the component parts until a more permanent home can be secured. They are currently awaiting a response.
"A number of options for relocation are being looked into but none of the potential sites will be available until after the date when Network Rail plans to remove the box.
"The council wants to maintain this landmark of the town's heritage and will continue to support efforts to find it a new home."
Cllr Arthur Moran, of Nantwich Town Council, said he was in support of saving and moving the box to the marina.
"It's an interesting development, and it would certainly be an extra attraction for the marina, and could tie-in to the re-opening of the Aqueduct when refurbishment work has been completed next year," he said.
"£40,000 is a lot of money, but there are grants available from the town council and Cheshire East."
The future of the signal box is to be discussed at the town council's finance committee tonight (June 25).