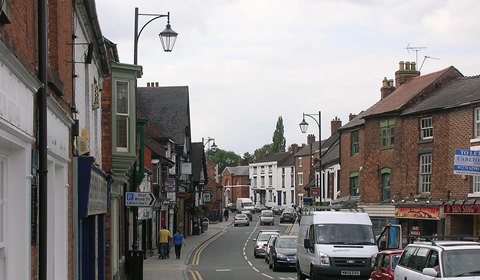 A one-way Welsh Row is a step closer after councillors passed a controversial 118-house scheme on green fields in Nantwich.
Cheshire East strategic planning board passed Gladman Development's application in a vote, which will see current development off Queen's Drive expanded.
But conditions imposed by councillors included making Welsh Row one-way eastbound, and to link Taylor Drive through to Edmund Wright Way and Marsh Lane.
They hope this will ease congestion and busy junctions along Welsh Row. The plan will go to public consultation.
But local residents say many objections to the 118 houses were ignored by councillors.
The advantages of another 118 houses, which will form an extension of a current development of 268 houses now being built, were seen to outweigh the impact on traffic and loss of open land.
But one resident who has lived in the Queens Drive area for years, said: "This one-way system, will, for all Nantwich residents, be a complete nuisance and pollution nightmare, and the businesses will no doubt have an opinion.
"The housing scheme, although opposed by Acton, Edleston and Henhull Parish Councils and Nantwich Civic Society, was not supported by a council officer in the planning papers.
"The impact of the 168 homes on Queens Drive has yet to be tested, but to add a further 118
before this first phase has finished is madness in my opinion.
"I am amazed so much local opposition from the Town and the Parishes and locals in the recent consultation can be ignored.
"It just appears legal to build and with the presumption in favour, this trumps sense.
"The presumption in favour should only be for the no-contest sites, as I don't believe the transport, schools, doctors, dentists, shops and infrastructure, even with added funds, is suitable for this to be sustainable.
"It's a sad day for democracy in my book."
There are also concerns that a one-way system on Welsh Row will have a knock-on impact on traffic around the town.
"The one-way solution for well over a 1,000 homes on the Millfields estates and new Malbank Waters estate, will have to go down either Marsh Lane and Edmund Wright Way, then turn left to Chester or go down Queens Drive and right only to Nantwich.
"If a one-way is implemented, the traffic queue that already goes along Waterlode to the Railway Hotel, will travel over the level crossings down Audlem Road, and up to Churches Mansion the other way.
"The queue is already backing up to the football ground on the new road link, and not long before it will hit the school gates.
"Have any of the planners worked out the impact on pollution of all the standing traffic, clearly not!
"The blight for Nantwich, changing it from pleasant rural market town to place to be avoided for traffic chaos is approaching rapidly."
We have contacted Cheshire East Council for a statement on the one-way traffic plan and are awaiting a reply.