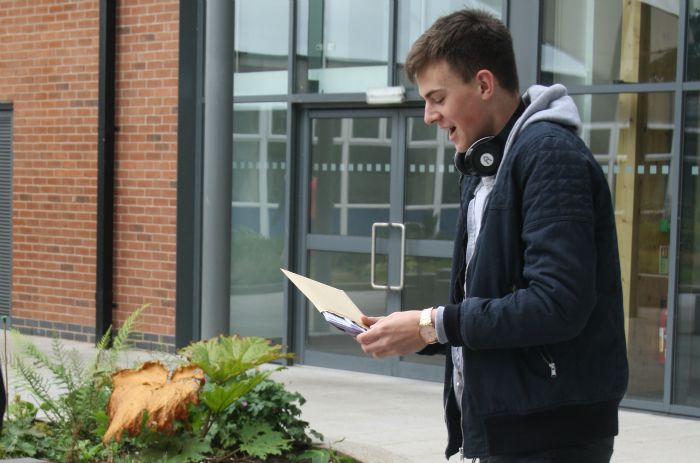 An impressive 80% of Brine Leas School students achieved 5 A* to C grades in their GCSEs – 74% including English and Maths.
And the number achieving the English Baccalaureate weighed in at an impressive 33%.
A* and As were attained by 27% of the year group in yesterday's (August 20) results.
More than 82% of students achieved Grade C or above in English and 76% in Maths.
And 22 students achieved A or A* grades in eight or more GCSE subjects which represents nearly 11% of the year group.
Staff also paid tribute to a number of students who surpassed their target grades with D and E grades.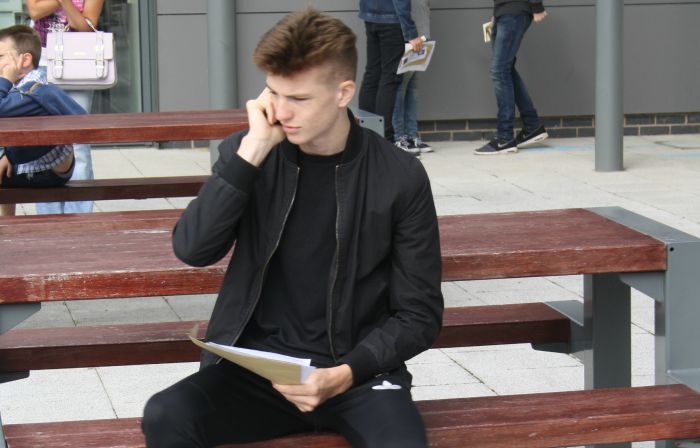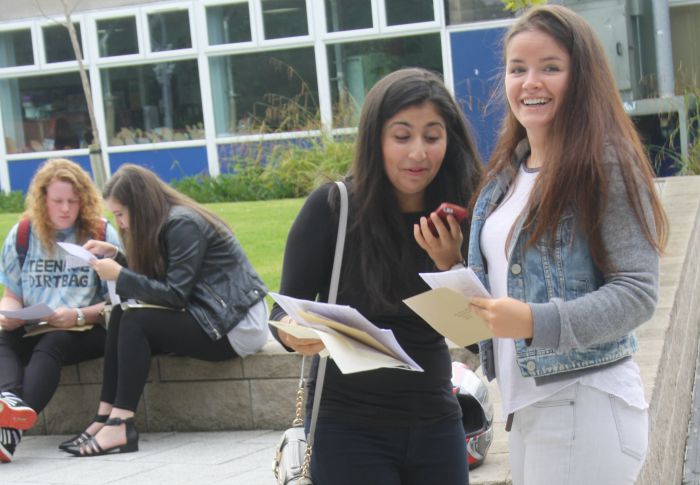 Brine Leas headteacher Andrew Cliffe said: "I am delighted so many students did exceptionally well and will be able to access the courses or career paths that they wanted.
"This was a year group who contributed massively to school life – supporting house events, raising money for numerous charities and contributing to the community.
"As ever the successes of our young people are a result of team work with parents and staff working incredibly hard to encourage the students to achieve their very best.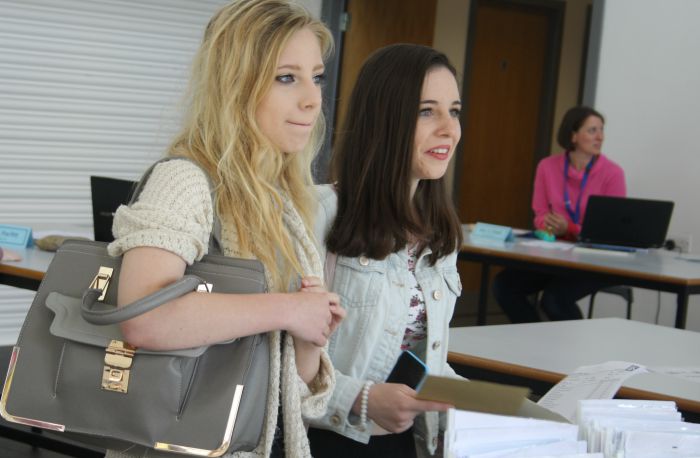 "Most students have exceeded their target grades and the headlines this year are excellent and surpass the last couple of years.
"There are some real success stories and many of them will be joining the rich mixture of students in BL6, the Brine Leas sixth form, to rekindle existing friendships and also to meet the many young people who were at other schools and have chosen to further their studies at BL6."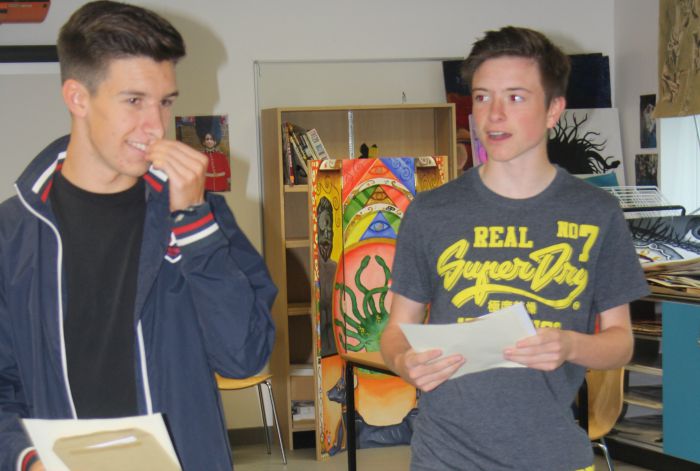 Any student wishing to register for 2015, and who currently has not done so, needs to contact the school as soon as possible 01270 625663 or [email protected]
A full list of names and number of GCSE passes at Brine Leas is listed, below:
L Aitken 10;
C Bairstow 10;
P Barker 11;
R Barrie 6;
C Baxter 11;
M Baxter 11;
H Bayne 7;
M Bell 11;
S Bennett 12;
E Bessell 12;
E Billington 11;
L Blakeman 11;
J Bloomer 11;
F Blythe 11;
W Booth 11;
R Borup 12;
A Bourne 11;
L Bowen 12;
L Bray 9;
F Brayford 11;
M Brindley 11;
J Brookes 11;
J Brown 9;
M Brown 8;
M M Brown 11;
T Bull 11;
L Burns 11;
B Carrigan 12;
S Caunt 12;
E Cavanagh 13;
L Chandler 9;
J Chapman 9;
J Cheetham 13;
J Clark 13;
O Clarke 12;
G Clewes 11;
H Coleman 12;
B Collings 12;
L Coulter 6;
M Crowshaw 11;
E Cross 12;
A Cunliffe 11;
A Davenport 7;
K Davies 11;
S Davis 13;
A Deaville 9;
E Dickenson 5;
E Dixon 10;
R Dobing 7;
J Dodd 12;
A Dragovic 14;
S Duncan 11;
O Durrad 11;
H Dutton 8;
T Dutton 10;
H Edler 11;
J Evans 12;
N Evans 12;
P Evans 12;
R Ewan 12;
S Farr 12;
O Fayt 11;
G Finneren 11;
R Forster 11;
A Gavin 6;
A Geragotellis 14;
A Gough 11;
S Graham 13;
S Granville 11;
C Griffiths 10;
T Hagan 12;
N Hall 12;
B Hammersley 14;
J Harding 9;
G Hardy 11;
G Harper 11;
S Hazeldine 11;
C Heath 6;
P Holden 15;
O Holding 12;
R Holland 12;
R Hopkins 11;
J Howard 5;
T Husband 8;
L Irwin 11;
O Jarvis 12;
C Jones 12;
M Jones 11;
P Jones 11;
J Joule 13;
M Karim 14;
A Katterloher 4;
L Kay-Derricutt 11;
R Kenyon 12;
C Kerwin 14;
W King 11;
L Kirton 11;
B Lambert 6;
J Latham 10;
G Lea 10;
H Ledwards 11;
J Linde 11;
Jodie Lomas 7;
E Long 12;
J Mabbutt 3;
J Maclellan 8;
F Madden 12;
R Maddock 12;
J Maddocks 11;
D Mahon 10;
E Mair 12;
J Major 12;
E Malcolm 13;
M Mansell 11;
H Martin 12;
A Martins De Campos 10;
E Maskery 13;
H Mason 12;
E Masterson 12;
J Mault 11;
Z McCullough 11;
R McGarry 10;
C McLellan 12;
C McMurray 11;
T McNally 11;
K McNeil 12;
C Meakin 11;
J Miles 9;
A Milner 11;
D Monks 11;
J Morrell 8;
G Morriss 12;
D Muirhead 12;
H Musa 10;
H Nash 12;
H Nevill 12;
E Nixon 12;
A Oliver 5;
R Outterside 11;
B Owen 11;
K Page 11;
A Parker 10;
T Parkes 11;
M Parry 12;
R Pemberton 9;
J Pittam 11;
M Pool 10;
A Poole 12;
O Poole 9;
C Popovic 7;
W Popovic 9;
O Porter 12;
M Poultney 12;
L Pownall 11;
O Prawl 8;
F Preston 6;
I Priestley-Bird 11;
A Prosser 11;
I Read 11;
S Retford 11;
C Riddell 8;
T Riddle 12;
G Ridout 12;
E Roberts 11;
H Roberts 11;
J Robinson 12;
A Rogerson 10;
E Ross 13;
T Rutter 12;
P Ryszka 7;
M Sanders 12;
T Shallcross 12;
M Shannon 11;
C G Shaw 12;
C J Shaw 13;
T Shaw 13;
G Sistern 12;
D Skellon 9;
J Small 12;
S Small 12;
M Smith 10;
G Spalding 14;
K Sproston 8;
C Stokes 10;
J Stroud 7;
J Swain 9;
G Talbot 12;
S Taylor 10;
J Telfer 11;
B Tew 12;
J Thompson 12;
E Thomson 13;
A Thorley 11;
W Thorley-Fox 10;
S Thundercliffe 8;
C Tongue 7;
G Tripp 10;
G Vallance 11;
C Vernon 10;
A Walker 11;
E Warrington 12;
S Waterer 11;
L Webster-Smith 11;
S West 12;
H White 12;
O Whitlow 12;
A Wilkinson 12;
C Willcocks 10;
C Williams 10;
M Williams 10;
T Wollaston 10;
C Wright 11;
J Wright 10;
C Yates 11;
J Young 8;