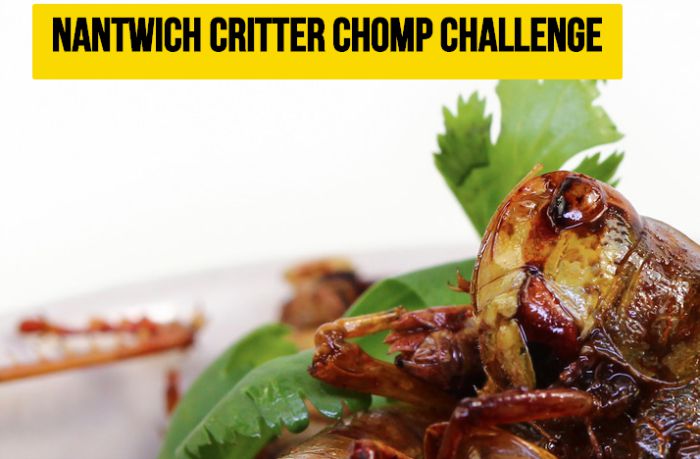 Nantwich Food Festival organisers are looking for fearless foodies to tackle the Rhino Critter Chomp Challenge.
Competitors will face Deborah Bouchard – actress, author and co-owner of Bongos Rock & Roll Pickles, an artisan chilli company, who has signed up to the challenge along with The Nantwich Town Crier.
Challengers will pit themselves against the clock and each other to sample a selection of tasty and nutritious insects.
Bugs and beasties might not be top of our tasty treats list, but this challenge isn't just about daring trials.
Deborah Robb, chair of Nantwich Food Festival, said: "The new Rhino Critter Chomp Challenge is going to be fantastic fun for those taking part and everyone watching, as well as a great way for the Festival to promote the importance of sustainable eating."
The contest, in aid of Nantwich Food Bank, will take place on Sunday September 6, 3.30pm at St Mary's Church, Nantwich.
Insects, a food choice accepted in many parts of the world, require less feed, water and
transport to produce than current meat sources, which are unsustainable for the
world's growing population.
They are also an excellent protein source, full of omega 3 fatty acids, iron, calcium, and trace vitamins and minerals not found in other meats and are low amounts of saturated fat.
To apply to enter the Critter Chomp Challenge, readers can head to Nantwich Town Square on Saturday 29 August between 10.30am and 2pm or get in touch by email, [email protected], Facebook www.facebook.com/nantwichfoodies or
Twitter, @nantwichfoodies.
Find out more at www.nantwichfoodfestival.co.uk
(Pic courtesy of www.nantwichfoodfestival.co.uk)