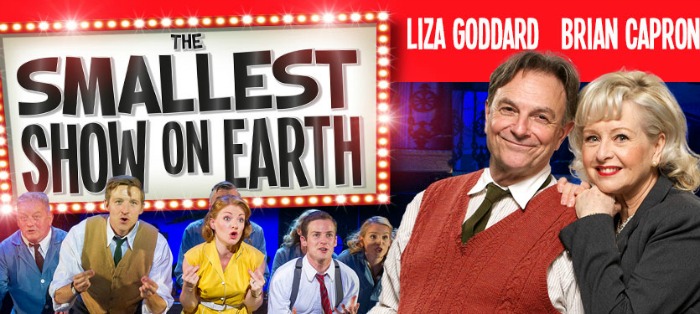 The Smallest Show on Earth, a new musical comedy starring Liza Goddard and Brian Capron, runs for a week at Crewe Lyceum.
The show, with music and lyrics by Irving Berlin, will be staged from Monday November 9 until Saturday November 14 as part of a new UK tour.
"We're very excited to bring this new musical with two great stars on-stage to the Crewe Lyceum Theatre," Lyceum marketing manager Gemma Whalley said.
"This heart-warming, feel-good show is the perfect uplifting night out coming into the festive season."
The new production is based on the StudioCanal Peter Sellers/Margaret Rutherford film, The Smallest Show on Earth.
It contains some of Irving Berlin's greatest songs, including Blue Skies, Shakin' the Blues Away, Let Yourself Go, Steppin' Out with my Baby and How Deep is the Ocean, as well as some rediscovered gems.
Director Thom Southerland said: "Berlin's music provides the perfect accompaniment to our 1950s story, not only in lyric, but in style and period too."
Newly-weds Matt and Jean Spenser inherit a cinema and think their fortune is made.
But the Bijou, better known as the fleapit, is the victim of a dirty tricks campaign from its rival flashy neighbour The Grand.
The cast is led by Liza Goddard (Take Three Girls, Bergerac, Grandpa in my Pocket) as Mrs Fazackalee and Brian Capron (Coronation Street, Where the Heart Is, Grange Hill) as Mr Quill.
Also in the cast are Haydn Oakley as Matthew Spenser, Laura Pitt-Pulford as Jean Spenser, Ricky Butt as Ethel Hardcastle, Philip Rham as Albert Hardcastle, Christina Bennington as Marlene Hardcastle, Sam O'Rourke as Tom Fazackalee and Matthew Crowe as Robin Carter, with Leo Andrew, Jacob Chapman, Matthew Dale, Nova Skipp and Leah West.
StudioCanal's The Smallest Show on Earth was a 1957 British Lion film written by William Rose (Genevieve, The Ladykillers) and directed by Basil Dearden (Blue Lamp, League of Gentlemen).
It starred Peter Sellers as Mr Quill and Margaret Rutherford as Mrs Fazackalee, along with Virginia McKenna and Bill Travers as Matt and Jean.