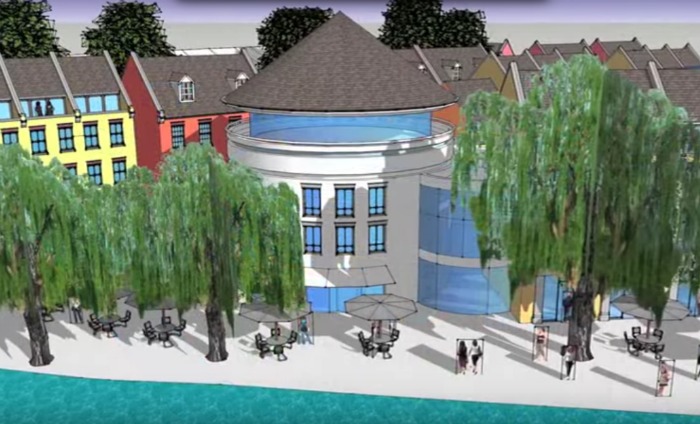 The former gasworks site in Nantwich could be turned into a riverfront hotel, apartments, business units and a two-storey car park.
Ambitious plans for the site have been unveiled by the Schofield family – well known in Nantwich as owners of numerous venues on Welsh Row.
They revealed a plan to build a 20-bedroom hotel, 28 apartments, coffee shops and business units, and a car park for 100 spaces.
They said some of those parking spaces would be available for the public, with access of St Anne's Lane.
The plans also include demolishing the Simply Thai restaurant on Welsh Row to create a more eye-catching access to the new development from Wyche House Bank.
And they plan to run a boulevard through the whole development from Welsh Row to the River Weaver and the footbridge.
The waterfront on the site would also still be accessible by the public.
Martin Greenwood, of Bower Edleston Architects, told Nantwich Town Council an outline application would be submitted to Cheshire East Council in the next week or two.
"It's a 1.7 acre site, and on the east side there will be a three-storey hotel with a restaurant and atrium," he said.
"On the other side, there will be retail, cafes, starter units and offices.
"In the brief from Cheshire East, they said there was no requirement to retain a significant amount of car parking.
"But we disagree with that, and our proposal in this area is for a two-level car park, with 56 spaces on the ground level, and 100 spaces overall."
Paul and Mark Schofield were also at the town council to outline their ideas.
They said there would be another access to the site from Welsh Row between existing businesses they currently own.
"We want this as an addition to the town, we believe it compliments the rest of the town which needs more facilities and open space," they said.
Jeff Stubbs, chairman of Nantwich Civic Society, questioned how close to the river bank the development would go.
Cllr Arthur Moran welcomed the plans.
"This is the last strategic site in the town and needs to be developed.
"There is a chronic shortage of hotel rooms in Nantwich, borne out during the many festivals and events we have in the town.
"I'm also in favour of people living in the town in apartments – it helps to bring life back to the towns. I'm quite impressed with this application."
The Schofields added: "We are Nantwich people, and we've done a lot of work on Welsh Row, and want to put something more back into the town."
An application is likely to go to Cheshire East Council next week.
(Image courtesy of A Vision for Nantwich Ltd)