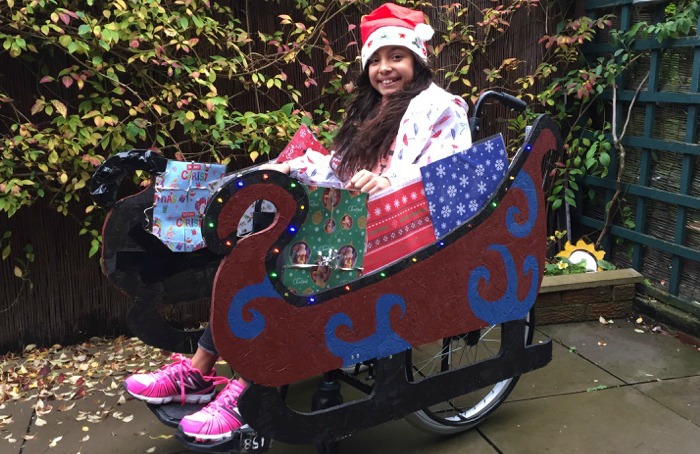 A young Malbank High School pupil in Nantwich who is battling a life-threatening illness, is plucking up the courage to take part in a 5km Bubble Rush.
Eleisha Plimbley, 11, was diagnosed with multi-system Langerhan Cell Histiocytosis, which affects her spine, skull, pelvis and arms and has spread to her bone marrow.
The courageous youngster, from Crewe, was diagnosed with the condition six months ago.
But now she is determined to take part in St Luke's Christmas event taking place at Marbury Park on December 6, from 10.30am.
Eleisha's mum Stephanie said: "Eleisha is currently undergoing her first cycle of chemotherapy and steroid treatment.
"She is often very weak, sickly, exhausted and in pain.
"But she has found the time and strength to put a team together for the 5k Christmas Bubble Rush to raise funds for St Luke's.
"Unfortunately, she was not able to take part in the 5k Bubble Rush back in May as she was too unwell.
"But she is determined to complete the Christmas Bubble Rush. Planning for the event has given Eleisha something positive to focus on."
Eleisha said "I am being looked after very well by all of my doctors and nurses, my family and my school.
"It makes me feel happy to raise money for other people who are poorly and need good support."
Eleisha's grandad Dale Perry spent hours in the garden shed creating and decorating a personalised Santa sleigh wheelchair, which Eleisha will use during the event.
She will be joined by her mum Stephanie, Auntie Lindsey, Mel, Lisa and Emma, her sisters Lexi and Jasmine, Eleisha's Cousins Joseph, Tianna, Johnathon, Rhys, Ethan and Lily.
Her team are fondly known as 'Santa's Special Forces' and her family will all be dressed as elves and reindeers.
Melissa Newland, senior events fundraiser from St Luke's, said: "Eleisha is an incredible and special girl.
"We are immensely grateful she has chosen to take part in St Luke's Christmas Bubble Rush, the event will be a great day for Eleisha and her family.
"The money raised will help Hospice care and services for patients in mid and south Cheshire."
In 2011, Eleisha's great grandad John Perry received care at St Luke's and spent his final months at the Hospice which needs to raise £8,600 a day to continue.
Donate to Eleisha's JustGiving page.
To take part in the 5k Christmas Bubble Rush, contact Melissa Newland on 01606 555815.