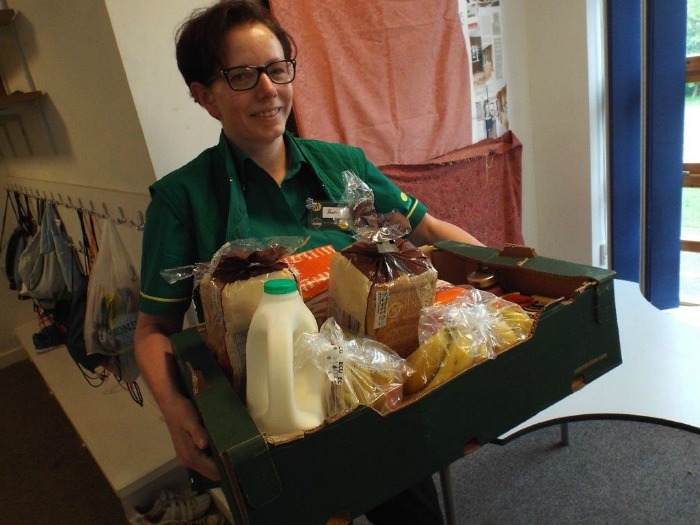 A Nantwich supermarket 'community champion' is appealing to local projects that need help to get in touch.
Rachel Lewis, the community champion for Morrisons, has completed her first year in the post.
Now they are looking to 2016 to help out even more projects – this time focusing in local community groups.
Rachel (pictured, above) said: "It's been an exciting first full year in my role.
"We have had collections and bag-packing for local community groups as well as raffles and cycling challenges for our charity partner Sue Ryder.
"I have just finished doing my rounds taking raffle prizes to local schools for their Christmas fairs.
"We've been collecting milk cartons for the RSPCA in Stapeley and as well as dropping those off I took some feline goodies of food and cat litter to help them out."
Now Rachel is keen to encourage more local projects to come forward and benefit from her role.
"From cookies for the kids to decorate, to a voucher for mince pie making, it has been fantastic to make a difference to the pre-schools, schools and higher education projects around Nantwich," she added.
"The way the role of the Community Champion works is changing for next year.
"We shall continue to work with Sue Ryder but we are really focused on getting involved with local community projects both in store and around Nantwich.
"So any community group or local charity that needs a helping hand please contact me through my email [email protected]
"We have availability for in store fundraising and I am also available to come along myself if you need an extra person to help out for any community projects.
"Really looking forward to getting out there and hopefully making a difference in 2016!"
Other projects Rachel was involved in during 2015 included hosting a collection for Nantwich Food Bank, and even supplying a microwave for one family, and 60 Christmas puddings for a group's Christmas lunch.