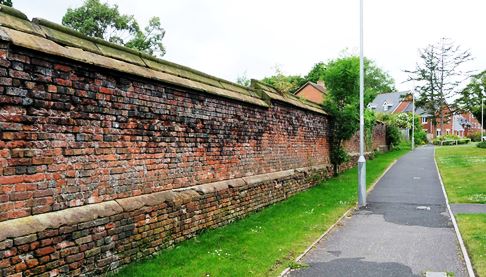 Campaigners fighting to stop Nantwich's Walled Garden being developed, have labelled the latest plans "cultural vandalism".
A development company is bidding to repair the damaged Grade II Listed walls surrounding the Tudor gardens off Kings Lane, Welsh Row, and create vehicle access.
But campaigners fear this is the next step towards the 15th century gardens, once owned by the Wilbraham family, being turned into housing.
Linda Briggs, of the Nantwich Walled Garden Society, said: "The historic garden could, once restored, be a real asset to our town in so many ways.
"But if it disappears beneath modern housing, it will be lost forever – a sad end to a centuries-old garden.
"2016 has been designated "Year of the English Garden" to commemorate the 300th anniversary of the famous landscape architect Lancelot 'Capability' Brown, and to celebrate our beautiful gardens.
"If planning officers approve the current site owner's plans to modify the walls and build eight houses within those walls, Cheshire East's contribution to the Year of the English Garden 2016 will be the destruction of a rare Tudor walled garden.
"Does the council really wish to be remembered for such an act of cultural vandalism?"
Fellow campaigner and society member Kathleen Millington, of Fairfax Drive, said: "There are certainly enough houses already being built in Nantwich so I do not see this site being used for more house building.
"The garden, if it was restored, would be an added feature to Nantwich which already attracts tourists and more would come to look at the restored Walled Garden I feel sure.
"We should respect our heritage in a place like Nantwich."
Peter Harrington, also of Fairfax Drive, added: "The Nantwich walled garden is a Grade II listed building of national importance.
"This Elizabethan walled garden is also an important piece of Nantwich's heritage that has survived almost intact for over 400 years and should be restored to provide a beautiful asset for the town and as a very significant visitor attraction.
"If the proposed planning application and listed building modifications were allowed to
proceed the historical integrity and importance of this Elizabethan garden site would be
destroyed for ever."
Clifford Anderson, agent for 4Real Developments Ltd, based in Rostherne, said: "We have taken the precautionary step of checking whether all or any adjacent owners have any registered proprietary interest in the walls, but they have not."
Members of the public can submit their comments on the plans to repair the walls and create vehicular access until January 14.
Click here to read the details of the application and find out how to submit comments.
A decision on the plans is due from Cheshire East Council on February 4.