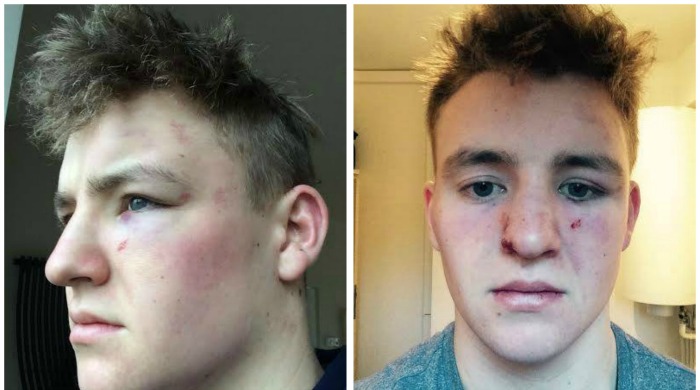 The family of a young Nantwich man who was allegedly attacked and "tortured" by police in Belgium, have vowed to take legal action.
Elliot Meredith, a student at Bath Spa University, says he suffered hours of "physical and mental abuse" after being arrested in Brussels.
The 21-year-old, a former Shavington High and South Cheshire College student, was in Belgium on a 10-month internship at a communications agency as part of his Graphic Communications degree.
But on a night out, he and two friends were arrested outside a takeaway near the Saint-Gilles Police station for "no reason".
He says they were handcuffed and then punched and beaten by officers, held in choke holds, forced to scream "I am a little girl" and told to fight with an officer.
Elliot said: "At one point by five police officers launching a sustained violent attack to the face and body whilst I cried for them to please stop and asking them what had I done?
"I was asked to have a fight with one officer in an attempt to make a case against me for assault.
"Unwillingness to do so and pleading with them for it to stop, they simply laughed and he attacked me anyway.
"I was taken to hospital but even that included a violent and abusive journey with an officer attacking me in the back seat of the car whilst again being handcuffed and restrained in a choke hold.
"I thought I was going to die.
"I was made to kneel on the floor and shout repeatedly "I am a little girl, I am a little girl" whilst the assembled night duty police officers all stood by laughing at me.
"With many other abuses too emotional to mention, thankfully two hours after it began, the night of cruelty, abuse and violence was finally over and I was released into the street without any formal charges or explanation for why I had been detained."
Now his parents Chris and Ingrid are to pursue legal action, and have urged the British Consulate to investigate the case.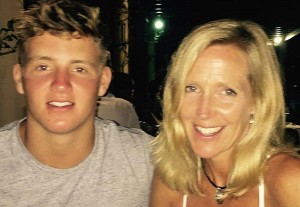 Elliot's mum Ingrid Meredith (pictured with Elliot) told Nantwichnews: "He had been really enjoying his time in Brussels and the internship. It is a great place to live.
"Unfortunately, what had been a fairly uneventful evening turned into a nightmare for him, and the rest you know.
"Elliot is back in Nantwich now. We have appointed a Belgium lawyer and started legal proceedings.
"We were in touch immediately with the British Consulate, they advised us to appoint a lawyer.
"Elliot did not share this ordeal lightly and it was not to gain him publicity.
"We want to stop these policemen from ever committing these acts again and we needed to ensure that this was taken seriously. It has been."
Mr Meredith's father Chris called it a "gross violation of human rights" and vowed "take this as far as we can to stop this happening to anyone else".
Their lawyer in Belgium, Zouhaier Chihaoui is to make a complaint to the juge d'instruction [magistrate responsible for conducting the investigative hearing that precedes a criminal trial].
A spokeswoman for the Belgian prosecutor has told local media Mr Meredith was detained during a police intervention for allegedly disturbing the peace.