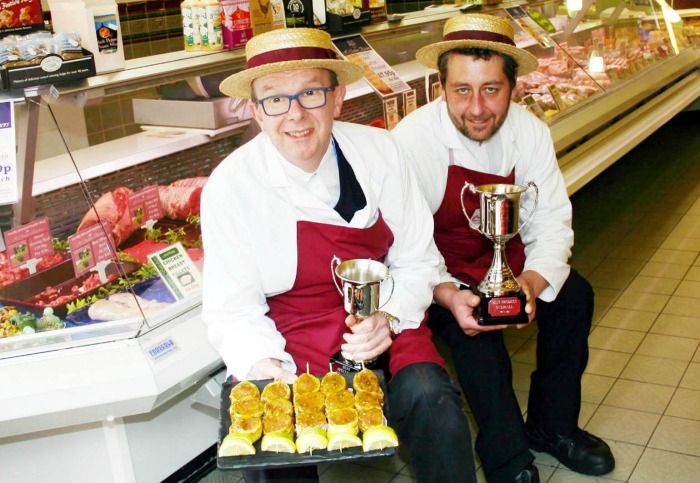 Award-winning Nantwich butcher H Clewlow is going for glory again in the UK final of the Butchers Q Guild's 2016 barbecue competition.
Winners of the North West regional heat have been revealed, with H Clewlow again winning through in two of the six barbecue categories.
They are also in the running unveiled to be crowned overall supreme barbecue champion by the Q Guild.
H Clewlow, based on Pepper Street, is competing in two categories – Pork Sausage and Speciality Sausage.
The former is known as the Classic Dog, a hot dog sausage and established favourite using pork supplied from Reaseheath Agricultural College in Nantwich.
The speciality sausage finalist is the shop's Chicken Lemon and Ginger Sausage, hand-crafted in-house.
H Clewlow landed the overall 2015 Q Guild BBQ Supreme Championship with its first-ever entry in the competition, Thai Pork Medallions.
Owner Charles Clewlow said: "Last year, we were thrilled to be chosen as champion of champions in an event featuring the cream of the UK's top butchers.
"Fingers crossed we will sizzle again this year!"
Almost 400 products from Q Guild Butchers nationwide were entered for this year's competition.
The national final takes place at Eastwood Hall, near Nottingham, on Sunday May 15.
Q Guild national chairman, Alnwick butcher Mark Turnbull said: "Entries for the BBQ competition have increased again this year such is the growing stature of our annual highlight.
"All north west regional winners are to be congratulated on qualifying for the national final and we wish them every success."
(Pic: H Clewlow's owner Charles Clewlow and shop manager Adrian Spender are pictured in the Nantwich shop with their 2015 Q Guild BBQ Competition supreme champion product)