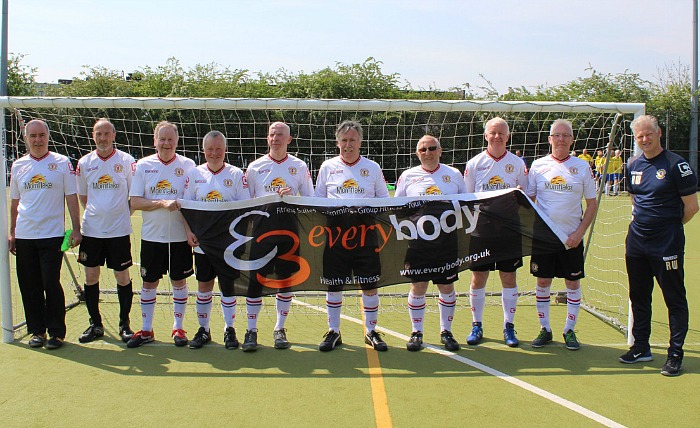 Walking Football is kicking off big time in Nantwich and Cheshire East.
And now Everybody Sport & Recreation Trust is launching more sessions to cater for growing demand.
They have developed sessions in Nantwich, Shavington and Crewe areas, with the backing of Cheshire FA, Cheshire Walking Football Group & Active Cheshire.
One team that plays at the Barony Sports Complex, Nantwich, represented Crewe Alexandra FC in the Football League Trust National Walking Football Tournament.
The Barony Walking Football Group entered the tournament representing Crewe Alex last year and made it to the finals at St George's Park.
This year the regional tournament was in Derbyshire against clubs like Derby County, Nottingham Forest, Coventry City, and Wolves.
And the team is also tasting success in the Cheshire FA's Walking Football League where they are top of the table five points clear.
Lee Malkin, community and participation manager at Everybody, said: "All of our walking football sessions are open to beginners, people who have never played the game before, people who just want to come down and have a laugh with mates, or for those who have had an injury or health condition who are looking to get back fit."
Phil Van Schitndel, 66, from Sandbach, has played for the Barony Walking Football Team for two years.
He started after being referred during a rehab programme due to him having a muscular and joint condition.
And he feels the game and the friends he has made has brought a new dimension to his life.
"After six weeks of joining the team I was able to stop smoking, it gave me the motivation I needed to start leading a more active and healthy lifestyle.
"Our players travel from as far as Northwich to play and we are always looking for new people to come and join us.
"Everyone is so supportive of each other, whatever the reason you want to get back to football everyone takes it at their own pace and we play to your strengths."
There are more than 600 walking football sessions in the UK – and growing rapidly.
The game has been designed for over 50s to help them get back into playing sport, keeping healthy and active and more importantly socialising with friends.
Current sessions running in Cheshire East include:
Barony Sports Complex 3G pitch – Mondays 3.00-4.00pm & Wednesdays 3.45-3.45pm
Shavington Leisure Centre Astro Turf Pitch – Tuesdays 5.00-6.00pm
Crewe Lifestyle Centre Sports Hall – Wednesdays 10.00-11.00am
Holmes Chapel Leisure Centre – Wednesdays 6.00-7.00pm
Knutsford Leisure Centre – Tuesdays 8.30-9.30pm
Wilmslow Leisure Centre- Mondays 9.00-10.00pm
Middlewich Leisure Centre – Mondays 6.30-7.30pm
They all cost £3 per session and you just need appropriate footwear and some water.
For more information visit www.everybody.org.uk