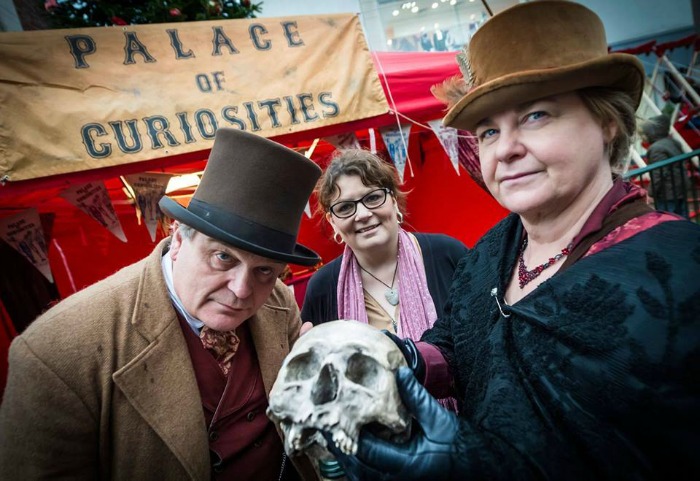 The inaugural Steampunk festival takes place in Crewe this weekend, which organisers say will help boost the local economy.
Free events, visiting attractions and exhibitions will be staged across the weekend, with shows at the Crosville Club and Lyceum Theatre during the evenings.
The Steampunk movement celebrates Victorian science fiction and fantasy, and imagines that steam power never gave way to electricity or petrol combustion engines.
The genre is growing in popularity across the country.
Between May 27-30, there will be concerts, street entertainment, music and buskers, a town crier, steam traction engines, a dancing bear, face-painting and a story-telling unicyclist.
A Time Travelling tea tent will pitch up by Christ Church, there will be a Palace of Curiosities running hourly shows at the Crown public house, plus lawn croquet and bowls will be staged on the paved area by the Law Courts.
Crewe businesses will feature, including Offbeat micro-brewery who have brewed a craft beer for the event.
Brewery owner Michelle Shipman said: "Offbeat is quirky and very different from the norm, so we're a great fit with the Steampunk festival.
"The Brewery on Thomas Street will throw its doors open and welcome visitors on the Saturday afternoon. Visitors will be able to enjoy drinks in a working brewery.
"We love coming up with unusual flavours and names, so beer connoisseurs should love our SteamPunk'd Amarillo IPA that will be available in cask and in bottles."
Many acts scheduled to appear have already booked in at local hotels.
The Crewe Arms, Travelodge, Royal Hotel and Waverley Hotel have reported business from visitors travelling across the country for the festival.
At the new Crewe Lifestyle Centre there will be a three-day Steampunk Market.
More than 40 stallholders have booked space to sell gifts, ornaments, fabrics and costumes.
EventCam, a Crewe-based company that produces 3D photos, will operate a hi-tech photo booth.
Owner Simon Szczurek said: "Some of the Steampunk costumes and accessories are amazing.
"We will be taking photos with a clever green-screen background that looks as though people are standing on a film set, so the characters will leap out.
"They will look stunning in 3D and can easily be shared on social media."
It is hoped the Steampunk festival will become a regular feature in Crewe.
Pam Minshull, chair of Crewe Town Council's Community & Environment Committee, said: "I'm really looking forward to the first Steampunk Festival.
"There is a fantastic line-up of artists for the evening shows and I'd encourage folk to grab some tickets and see what this is all about.
"I'm also really excited about the free daytime activities, so I hope that everyone supports the events and enjoys the weekend."
The weekend begins with a Welcome Show at the Crosville Club on Friday, with daytime events and other evening shows across the Bank Holiday weekend.
For further details visit www.crewe-steampunk-convivial.co.uk