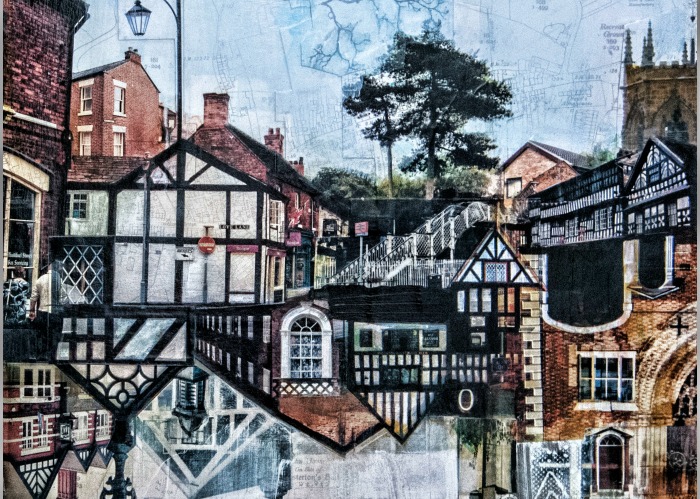 "Nantwich (I Flew The Nest)" is a new addition to the art collection at Nantwich Museum – thanks to US-based artist.
It is a multi-layered work by artist Jon Measures, who grew up in Nantwich but is now based in Los Angeles.
Jon made the work specially for the museum as a gesture of gratitude to the town.
His approach to mixed media artwork often combines multiple views of urban areas such as Nantwich, slicing and dicing together bits of the subjects rich fabric.
The images are digitally edited photographs, printed then made into collages that are then further worked as paintings.
Paint is used to stylise or emphasise aspects of the photographic materials, to add texture, layering and colour.
The layering is an important aspect to the work both in the computer and on the physical artwork.
The process is a hybrid between painting, photography, digital art and collage and echoes the layering of history so richly represented in Nantwich.
Museum manager Denise Courcoux welcomed the gift as a "fascinating view of the town which will intrigue viewers through its illustration of different facets of the town's historical vista".
Entry to the museum is free and the artwork has been installed as a permanent exhibit which can be viewed from the balcony outside the Joseph Heler Room.
Contact Nantwich Museum on [email protected], call 01270 627104, visit www.nantwichmuseum.org.uk