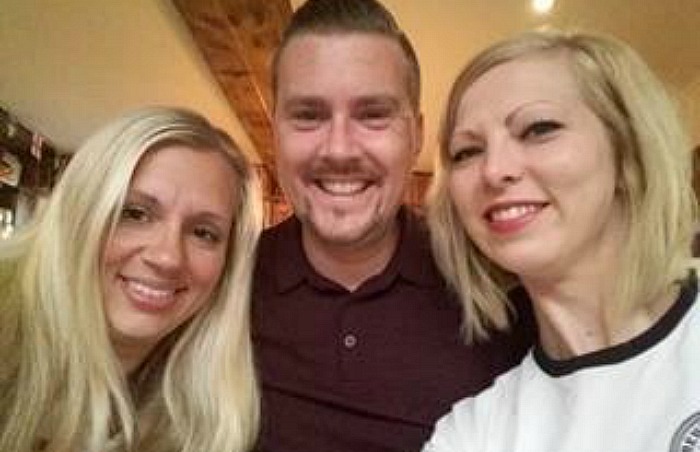 A German woman has spoken of her horror after she was verbally abused in a Nantwich pub as she watched a Euro 2016 football match.
Mel McDevitt was with husband Patrick and friend Nicole Mőst, who was visiting from Germany, when the incident happened in The Vine Inn on Hospital Street.
They were sitting with another German family watching the Euro quarter-final game against Italy when a customer launched into a tirade of "xenophobic" abuse.
Mel, who works as a languages teacher in Nantwich, has lived in the town for two years on Station View and said she has never experienced anything like it.
But she fears the 'Brexit' referendum may be to blame.
"My heart is broken and I know it won't be the last time," said Mel, pictured (above) with Patrick and  Nicole.
"Unfortunately, the leave campaign gave these people a voice.
"This guy gave us the Hitler salute, was slagging us off for 20 minutes, making rude signs and shouting at us.
"Throughout this I was on the verge of crying, but was fighting it – not to give him the satisfaction.
"I felt paralysed like never before. In the end, the bar maid told him off, and Irish regular stood our corner, and the horrible man's friend came over to apologise.
"Since my friend came over, we've been wary about speaking German in public – and this just topped if off.
"I guess I will have to grow a thicker skin… if I want to stay."
Mel has lived in Britain for seven years. She did an MA in Manchester, and then her teaching degree in Liverpool.
She worked at SW in Crewe and worked at Brine Leas on maternity cover. Mel also teaches at Weaver Primary, runs evening classes in German at BL6, and tutors Bentley employees in Crewe.
Patrick, who is Irish, works at Fallibroome Academy in Macclesfield as a Spanish and French teacher.
"I just love Nantwich," she added.
"I have been saying that this is the best place I've ever lived in as everybody is just so kind and lovely.
"This was a real shock!"
Cheshire Police has issued warnings to anyone engaging in 'hate crimes' as a result of the Brexit referendum after other parts of the UK saw a spike in incidents.
Assistant Chief Constable Sarah Boycott said: "Here in Cheshire we treat all communities with tolerance and respect, and long may that continue.
"But in light of some incidents we've seen in other parts of the country, I want to make it clear to our minority communities that we're here for you, and we don't accept racism or threats to those because of the colour of their skin or where in the world they were born.
"That's hate crime, and we take firm action wherever we come across it."