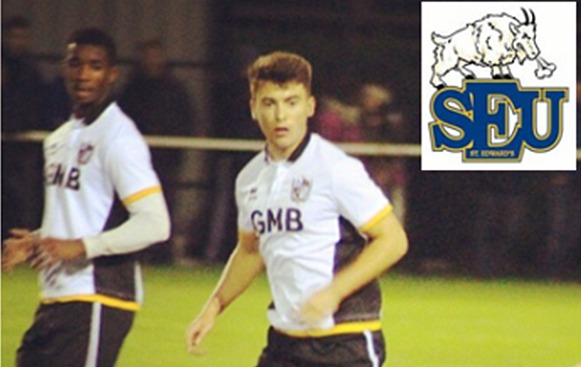 A former Malbank School student in Nantwich has scooped a prestigious football scholarship in the USA.
Daniel Wakeham, from Wistaston, will travel out to the States this summer where he will be baed at St Edward's University in Austin, Texas.
Daniel, who also studied at Stoke Sixth Form College, is a former Port Vale FC apprentice.
He will study and play for the "Hilltopper" soccer team in Texas from August.
Daniel can combine his university studies alongside playing high level football for the next four years.
He secured his place with help from PASS4Soccer Scholarships.
And he will hope to follow in the footsteps of PASS4Soccer client Andrew Fox, who graduated from St Edward's in May 2015 and signed professionally for Peterborough United in League 1, making 22 appearances.
Daniel said: "I chose to study in the US to allow me to continue playing football every day at a high level while also furthering my education, to increase the future possibilities of a career in sport.
"I'm most looking forward to the US experience, meeting new people and getting the chance to play football everyday again.
"I chose St Edwards as they play in the NCAA division II, and have had success in the past especially as a soccer team.
"They also are based in Austin, the capital of Texas, where I am very much looking forward to living for four years."
Daniel's achievement in winning the scholarship and placement is in recognition of both academic achievements and athletic ability.
He also had to impress at the PASS4Soccer US Coach Showcase held at Bisham Abbey National Sports Centre in December in front of 50 US scouts.
Places in the PASS4Soccer Network Program are now available for students seeking to enter a US university soccer programme in August 2017 and 2018.
PASS4Soccer will be holding trials in July (Gloucester and Nottingham), September (London) and October (London, Birmingham & Newcastle).