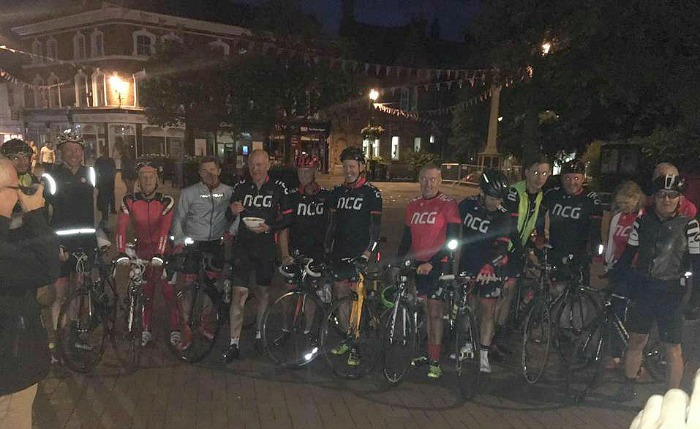 This is the moment exhausted members of Nantwich Cycling Group completed a 220-mile charity ride from London in one day.
Ten hardy pedallers rode from the capital to Nantwich to help raise funds for Wingate Children's Centre in Wrenbury.
They left Tower Bridge in the capital at 4am and arrived in Nantwich town square at 10.30pm the same day.
En route, they passed iconic London landmarks before heading out through Windsor, Henley-on-Thames, Oxford and the Cotswolds.
On arrival in Nantwich the cyclists and support crew were treated to food and drink at the Nantwich Book Shop & Coffee Lounge.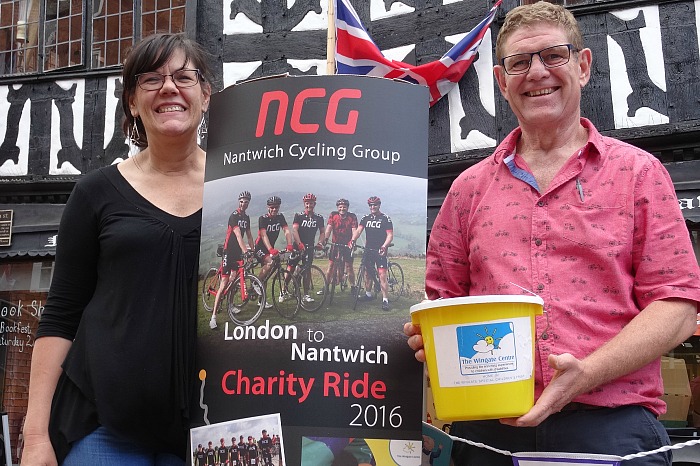 Last year, NCG cycled in the reverse direction from Nantwich to London in aid of Leighton Hospital and raised more than £5,000.
This year, NCG are raising money for The Wingate Special Children's Trust, based at the Wingate Centre, in Wrenbury – http://www.thewingatecentre.co.uk – and have already raised more than £3,700.
The Wingate Special Children's Trust has to find £300,000 each year to maintain the centre and subsidise their student's activities.
Their state-of-the-art gym makes a difference to the lives of children and adults of all abilities, including those with extreme physical and learning difficulties.
To make adonation, please visit the NCG's London to Nantwich Wingate Ride page.
A spokesman for NCG said: "This has been an epic challenge and each of the riders should be immensely proud of what they have achieved.
"We would like to thank everyone who took part and all the members who helped to organise this successful event – you are all a credit to NCG.
"Thank you so much to all of the people who have donated, and a special thanks to Morrisons, Chatwins, Halfords, @trainingbytesize, Swanline Print, Strada Italian and the Nantwich Book Shop & Coffee Lounge for their donations of advertising, transport, water and food."
NCG is run by its members at all levels from beginners, sportive enthusiasts or even racers.
For more details, join their Facebook group.