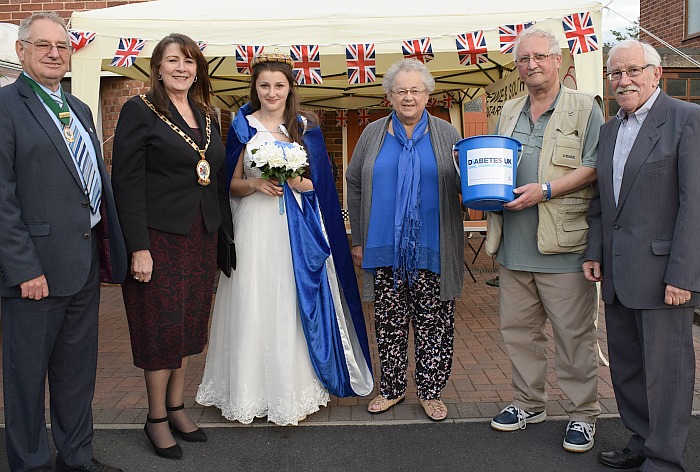 A Wistaston Garden Party in aid of Diabetes UK raised almost £500.
Sheena and Ken Sambrook opened up their Westfield Drive house and gardens for the annual event.
They couple are president and treasurer respectively of the Crewe and South Cheshire Voluntary Group of Diabetes UK.
Entrance was 50p and included a tea or coffee.
Strawberries were available for sale and there were stalls selling cakes, jams and bric-à-brac. There was also a prize raffle.
More than 80 people attended, including Madam Mayor of Cheshire East Borough Council Cllr Olivia Hunter and Consort Philip Boulton.
Also there was newly crowned Wistaston Rose Queen Emma Horne and her Attendant Emily Edge.
The Mayor and Consort were chauffeur driven to Wistaston in the Mayoral Bentley by Mayor's Officer Clive Bradshaw.
Ken Sambrook said: "We are always amazed at the wonderful support we receive from friends in the local community.
"It makes the evening such a great success and enables us to continue to support Diabetes UK, this year raising £475."
All proceeds go to diabetes research projects and to support newly diagnosed children and adolescents to attend an educational residential holiday held in the UK.
The residential allows them to integrate with other young people with diabetes and share experiences, which helps them learn to control their condition.
On average, the Crewe and South Cheshire Voluntary Group raises £7,500 a year for Diabetes UK.
(Pic: l-r – Philip Boulton, Cllr Olivia Hunter, Emma Horne, Sheena Sambrook, Pat Smith, Ken Sambrook. Pic below, the Cheshire East Mayoral Bentley)
(Words and pictures by Jonathan White)