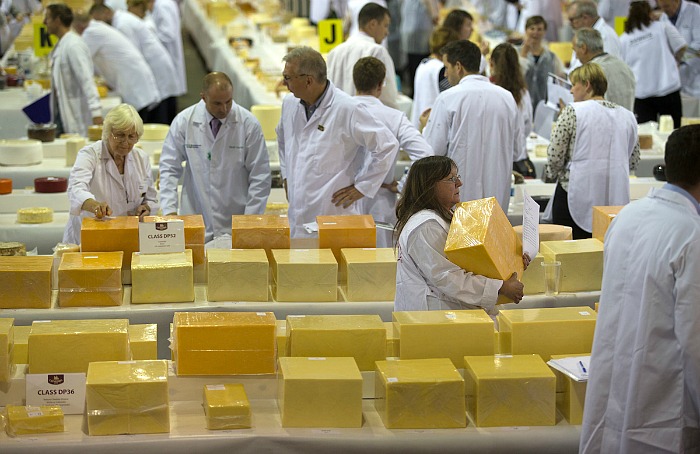 The International Cheese Awards at Nantwich proved another massive success and the largest of its kind in the world.
More than 200 judges spent their time judging an astonishing total of 5,000 entries from across the globe.
Nearly half of these (47%) were from overseas.
Judges tasted and tested all the entries and eventually announced the Champion Overseas, Supreme Champion and winner of the Westminster Cup 2016 as Treur Kaas for their aged Jerseyhoeve Schorren – going one better than last year.
Reserve Supreme Champion and Reserve Champion Overseas was awarded to Elite Imports, while Champion UK went to Arla Foods with a Double Gloucester from Taw Valley Creamery.
Supreme Retailer for 2016 – presented to the retailer gaining most Gold Awards in the show – once again went to Waitrose.
The supermarket picked up 25 Gold awards across all classes as well as winning Speciality Cheese Retailer of the year.
Morrisons came in second with 21 golds, and also triumphed as Cheddar Cheese Retailer of the year.
In the remaining individual retail awards, Asda was awarded Healthy Cheese Retailer of the year and the Co-Operative won Cheese Board Retailer of the year.
The British Cheese Board industry award was presented to Nigel Pooley, who recently retired from his post as Master Cheese Grader at Wyke Farms.
Nigel's olfactory powers are so legendary his nose was famously insured for £5 million, and he is still known as "Nige-the-Nose".
Tens of thousands of Nantwich Show visitors indulged in all the cheeses and also enjoyed a number of live demonstrations from celebrity chefs.
Those appearing included James Martin, Will Holland and Sean Wilson who each performed during the day in the Le Gruyere Cookery Theatre.
For a full list of results from the International Cheese Show awards, visit here.
(pics by Rod Kirkpatrick/F Stop Press)