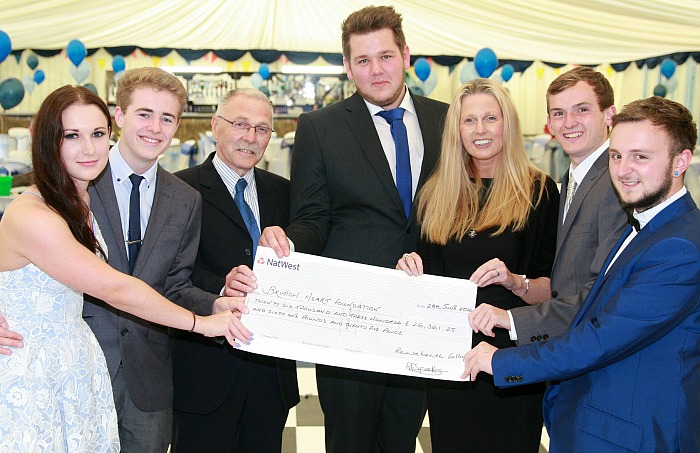 Big-hearted students and staff from Reaseheath College in Nantwich have raised a record breaking £33,000 for local charities.
The British Heart Foundation, the Student Association's chosen charity of the year, received a cheque for £26,361 at the student summer ball held on the college's Nantwich campus.
The final total was £5,000 more than the original target.
Students and staff also raised £7,000 for other charities including the Poppy Appeal, Epilepsy Society, World Aids, and Sport Relief.
Student Association (SA) members voted to fundraise for the British Heart Foundation because many had relatives affected by heart problems.
They staged more than 100 fund-raising events including a fashion show, foam party and activities at Reaseheath's Family Festival and lambing weekends.
Their mascot, Daisy the Cow, met the public at the region's agricultural shows.
RAG (Raising and Giving) Week activities included a themed RAG ball, a tractor pull, a cake sale, sponsored walks and a 24 hour static cycle ride.
Staff completed challenges and construction staff and students completed a Snowdon climb carrying 19 kilo hod of bricks.
More than 350 students have been trained in cardiopulmonary resuscitation (CPR) with kits donated by the BHF as part of its 'Nation of Lifesavers' campaign.
Student Association President Tom Allen said: "I'm very proud of the SA team, who worked really hard to put together a programme of activities which everyone could enjoy.
"We also had unbelievable support from all staff and students and from the British Heart Foundation itself."
Michelle Bailey, of British Heart Foundation, said: "We are hugely grateful to the students and staff of Reaseheath College for raising such a phenomenal amount of money.
"I have never met a more inspirational group of young people.
"They have put so much focus and passion into their fundraising.
"This will make a huge difference to people across the North West who are supported by our charity."
British Heart Foundation is one of Britain's largest charities and funds research into improving treatment, diagnosis and prevention of heart and circulatory disease.
Over the past 28 years, Reaseheath students and staff have raised more than £248,000 for causes including Macmillan Cancer Support, St Luke's Hospice and Broughton House Military Charity.
(Pic: Student Association Vice President Katie Gibson, RAG Vice Chair Dan Lee, Student Association Joint Vice President Josh Bufton, RAG Chair Tom Allen and SA President Rob Sparkes hand over cheque to British Heart Foundation)