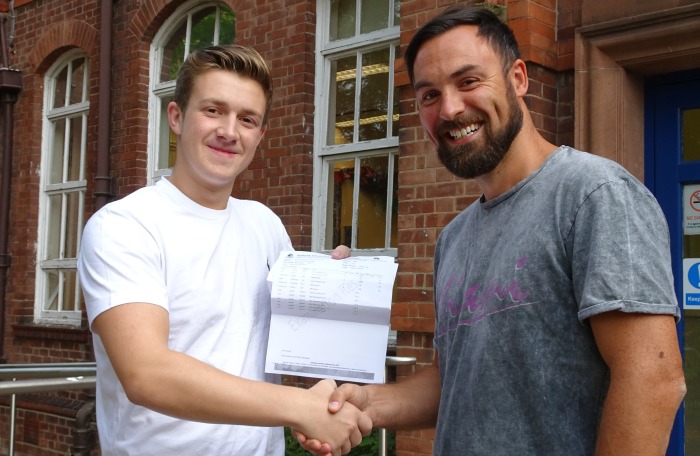 Students and staff at Malbank Sixth Form College in Nantwich are celebrating their A level results across the curriculum with 28 out of 31 courses offered producing 100% pass rates.
A third of all grades achieved were equivalent to A's or A*'s.
All Further Maths students and 50% of A level Maths students achieved at least an A grade, while 93% of English Language students earned a C or above.
This helped sustain the department's success after being ranked in the top 20 best departments in the country last year.
Malbank Headteacher Jeannette Walker said: "We are thrilled all the hard work and dedication of our students and staff has been rewarded.
"Our students are going to some of the best universities and employers in the country to study a range of courses or start jobs."
John Harrison, Director of Sixth Form, added: "This year, Maths and Economics courses seem to be very popular which is symptomatic of the good results being produced by our Maths and Business departments."
Individual successes include Alex Leigh (pictured, below), who gained 4 A* grades in Maths, Further Maths, Physics and Electronics and is going to Cambridge University to study Maths.
Nathan Spencer Hall gained A*A, A and 2 AS levels and will study Maths at Nottingham.
Emma Rogerson is reading English after achieving A*A, B, 2 AS subjects and an A* in her EPQ.
Marcus West gained A, A, A, C and 2 AS subjects and will go to Manchester to read Economics.
Jemima Lucas gained 3 A grades and an AS in Physics and will go to Bristol to study Maths.
Sam Dawes gained 3 As and 2 AS subjects and will read Maths and Philosophy at Manchester.
Retiring Chair of Governors  at Malbank Geoff Watts was delighted with the results of the class of 2016.
"We are hugely proud of what our students have achieved and we wish them all well with their next steps.
"We look forward to celebrating their future successes, wherever they go, as they will always remain part of the Malbank family."
Head Girl Charlotte Rhodes, who is going to Birmingham to study Geography, said: "We've always known we attended a great sixth form, but this year, the results are even better!
"We'd like to thank the staff who have looked after us so well!"