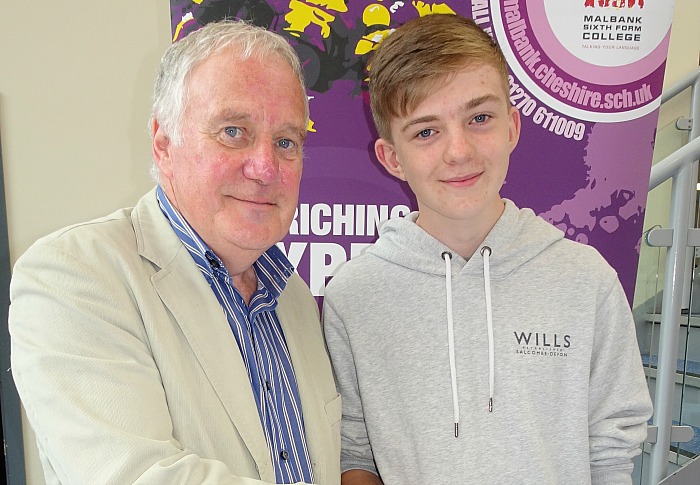 Malbank School GCSE students in Nantwich are celebrating excellent grades.
Top of the class was Bethany Lawrie, who achieved an amazing 7 A*s and 4 As.
Meanwhile, Oliver O'Hara (pictured, above) earned 6 A*s and 4 As while Thomas Davies achieved 6 A*s and 2 As.
Joseph Backs gained 5 A*s and 5 As. Lydia Naylor got 4 A*s and 5 As. Isobel Ford achieved 4 A*s and 3 As.
Malbank School headteacher Jeanette Walker said: "It is very pleasing when students have worked as hard as they have, to see them rewarded with the top grades.
"However, it is equally pleasing to see students who have dedicated themselves to making the most progress since they began at Malbank.
"Outstanding progress has been made by Jake Davies, Charlie Edleston, David Fifer, Rachel Fifer, Ayda Hamad, Harriet Hewitt, William Lawson, Bobby Malkin, Matilda Williamson and Billy Wise.
"They all significantly outperformed their targets which were based on their Key Stage 2 results."
Head of Upper School Alan Symms said: "It's great to see these students excelling across a wide range of subjects and surpassing their challenging targets through sheer hard work and endeavour.
"I'm very proud of them."
Chair of Governors Geoff Watts said: "I'd like to congratulate our students and their families who have supported them so well.
"We look forward to continuing to nurture them in the sixth form."
Pictured, below, is Beth Lawrie with her stunning set of GCSE grades, and Joseph Banks being congratulated on his results by headteacher Jeannette Walker.