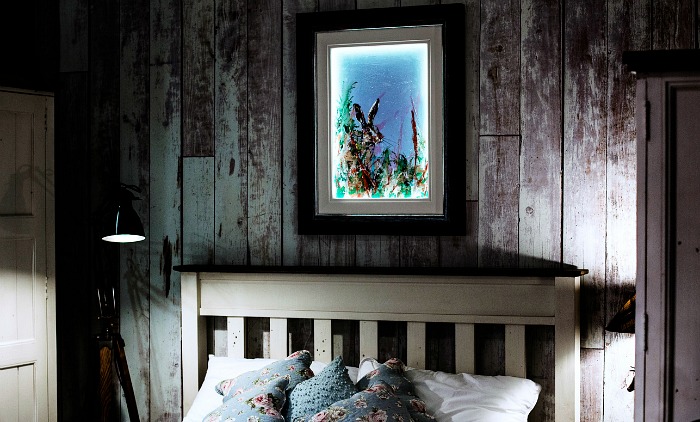 A Nantwich publishing business has established itself at the forefront of art technology development.
Blutulip Publishing, an independent fine art publisher, has unveiled cutting-edge technology in LED lighting, called the Illuminapp system.
The patent pending Illuminapp has LED lights built into artwork frames which are controlled by an app.
The app was developed following feedback from customers who wanted more sophisticated lighting to show their artwork off.
Bosses at Blutulip, based at Dagfields in Walgherton, hope Illuminapp will change the mood of the art and bring it to life.
Without lighting being activated, the artwork is indistinguishable from any other painting in a frame.
But using the lights, paintings take on a new dimension and can become the focal point in a room.
Contemporary artist Rozanne Bell has thrown her suppoer behind the idea.
And two of Blutulip's most coveted artists, Annabel Thornton and Terry Bradley, have created art with Illuminapp in mind.
Annabel said: "I produced a painting of an owl for the Illuminapp system and when we had
it switched on it just looked like the owl was sweeping through an Autumn
sky, it was amazing.
"I can't wait to create more artwork for it."
The first manufacturing order for Illuminapp has sold out.
James Blinkhorn, from Vermilion Gallery, said: "Illuminapp is like nothing we have seen before in the art world.
"Lighting options have always been somewhat flat and one dimensional.
"This lighting system gives so many different lighting options and appears to be
illuminating the paintings from within so the lights can change the mood of the artwork completely."
Graham Finch, Director of Blutulip, added: "It is a very exciting time for us and for the art world as a whole as there is nothing else like Illuminapp.
"We already have several new product lines in development which give scope for further user interaction and the options are boundless… watch this space!"