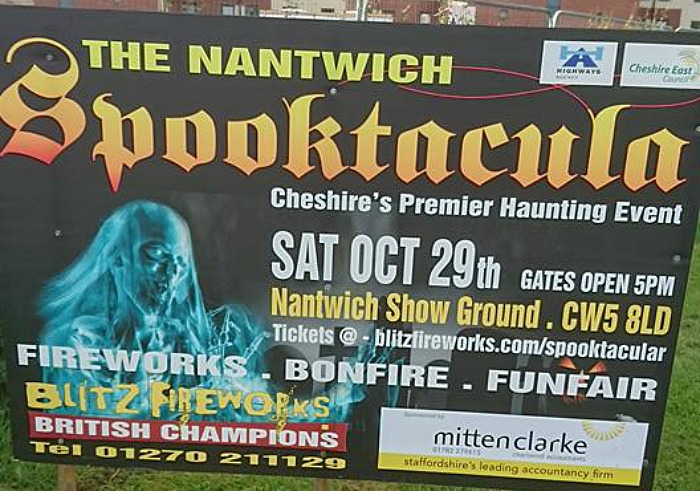 Thousands of people are expected to cram in to Dorfold Park in Nantwich for the town's annual Spooktacula.
Labelled as 'Cheshire's Premier Haunting Event', the Spooktacula will be held on Saturday October 29 at the Nantwich Showground off the A534.
There will be the usual fireworks display, provided by Blitz Fireworks, a bonfire, funfair, as well as the ghostly and ghoulish fancy dress competitions.
The funfair will include white knuckle and children's rides, fancy dress competitions for adults and children, a licensed bar, and food outlets.
There will also be music and chat from The Shaun Simons Roadshow.
The Spooktacula has been running for eight years and is organised by Blitz with support from Nantwich Show organisers and Nantwich Agricultural Society.
This year's show will feature more than 3,000 fireworks that will light up the sky above Nantwich.
Tickets are available in advance from Blitz Fireworks (26 Hightown, Crewe); Nantwich tourist information office at the Civic Hall; Waterside Café at Nantwich Marina; and on Nantwich Town Square on October 22 and 29 from 10am until 3pm.
Ticket prices in advance are £6 for a child and £8 for an adult. On the gate, children £8, adults £10.
Gates open at 5pm, for more information visit the Nantwich Spooktacula website.