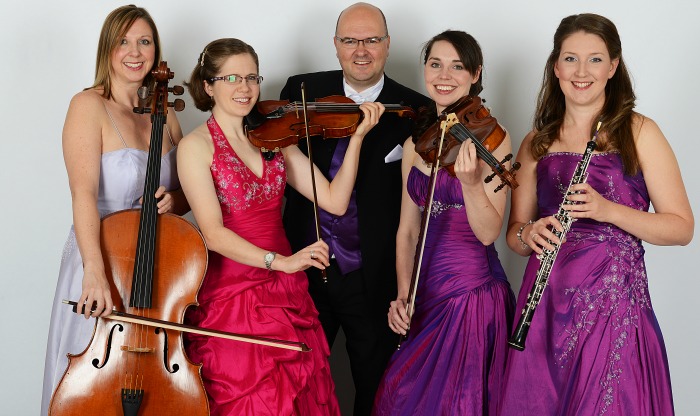 An award-winning crossover classical ensemble, who perform music from some of the greatest film soundtracks, is to play Bickerton Village Hall.
Fordante will perform "From Strauss To The Movies" at Bickerton on Wednesday November 23 at 7.30pm.
Tickets for the show, suitable for ages eight and above, are available directly from the venues and can be booked by calling 01829 782 348
Along with their movie soundtrack numbers, Fordante also performs its own original music.
Their repertoire includes The Blue Danube Waltz, Merry Widow Overture, Bolero, plus a mix of other music.
Stunning visuals using video projection and computer controlled lighting creates a matching atmosphere.
The quintet comprises Phil Mountford (composer/arranger, musical director, keys), Rebecca Rose (cello), Ruth Wooley (viola), Shulah Oliver (violin) and Rebecca Dawkins (oboe).
Phil Mountford said: "I'm looking forward to bringing the award-winning Fordante to Cheshire and performing some of the most beautiful music from the movies, with a few of our own foot tapping pieces and some fabulous well known classics from Strauss and others popular composers.
"It's great to hear our audiences tell us that what works so well is that the music really is for everyone to enjoy, not just regular concert goers!"
The show is part of Cheshire Rural Touring Arts' (CRTA) autumn season of touring, taking professional arts events to rural venues and libraries.
The full CRTA autumn season can be found at www.cheshireruraltouringarts.co.uk
(pic L-R – Rebecca Rose, Shulah Oliver, Phil Mountford, Ruth Wooley and Rebecca Dawkins)