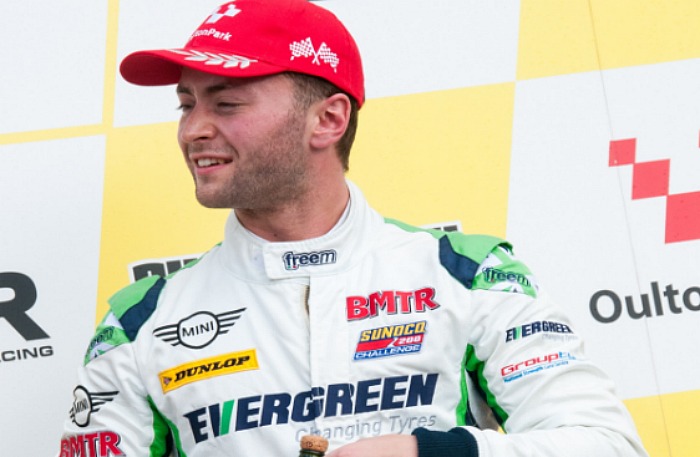 Nantwich racing driver Rob Smith's bid to end the season with silverware were dashed in the final race.
Smith, racing in the Mini Challenge, suffered gearbox problems in the last race at Snetterton 300 Circuit in Norfolk.
And the mechanical problems ended his hopes of an end-of-season podium finish.
Smith, supported by Evergreen Tyres, GroupTyre Ltd and BMTR, spoke of his frustration.
"It wasn't the end to the season we wanted, but it's how this year has been unfortunately," he said.
"After the gearbox failure, we had to fit a last option spare to the car.
"But it had no pre-load so I was getting wheelspin in qualifying.
"We had no traction in the middle sector and couldn't get a time as a result, I lost the benefit of the tyres.
"I had a good first lap in race one and when I was about to challenge for eighth, and get onto the back of the group ahead, a car went wide so I left them space but I was then put onto the grass from someone behind.
"We fitted another gearbox for race two, it was a lot better, but it wasn't really a race in the end with the Safety Car and early finish.
"Now we'll be working on the sponsorship over the winter for next year and 2018.
"The main plan is to be back in the MINI Challenge and to fight for the Championship, I really want that on my CV before we try and move into touring cars, but we'll see what happens."
Smith, 24, who works at Bentley in Crewe, had enjoyed four podium finishes during the season before Snetterton.
He made a good start from the sixth row of the grid in race one, but he was pushed out onto the grass by another rival and so dropped to 15th position.
In the end, he battled back through into a 12th place finish.
Race two started in poor foggy weather conditions and was limited to only a single lap.
After four laps under caution behind the Safety Car, green flags were waved and Smith held an improved 11th place due to one driver coming to grief.
Racing did get underway but the chequered flag was waved at the end of lap with Smith in 10th.
The final 2016 MINI Challenge driver standings saw Smith in 7th place on 492 points.