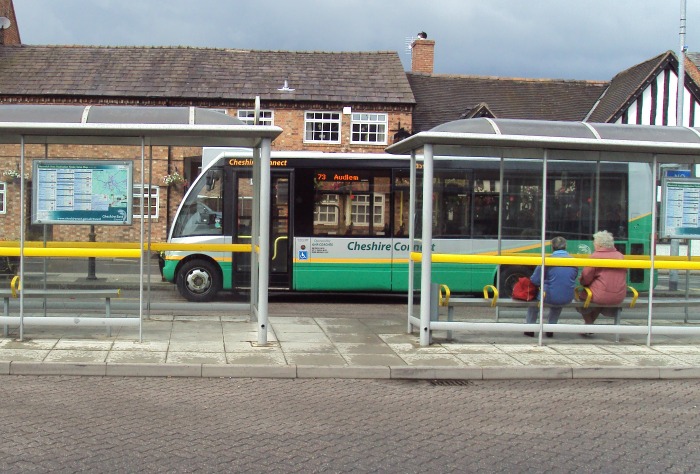 Elderly bus users in Nantwich are calling for timetable changes to key morning routes so they can use their free passes.
They say they are being disadvantaged because the number 89 bus to Wrexham leaves Nantwich bus station at 9.25am.
It means they have to pay £1 for the 20-mile journey – while all other pass holders getting on after use if for free.
The Monday only D&G Bus service departs from Nantwich bus station at 9.25am – just a few minutes before the 9.30am off-peak time.
One regular Nantwich user Phil said: "Bus pass holders boarding at Nantwich bus station have to pay £1, yet five minutes later bus pass holders boarding at Acton pay nothing!
"All the bus pass holders for the rest of the journey to Wrexham pay nothing as it is after 9.30.
"The bus driver will not wait for the five minutes at Nantwich bus station.
"It is totally unfair that only bus pass holders boarding at Nantwich bus station have to pay whereas the journey is free to all other bus pass holders who board the bus from Acton onwards."
Passengers face a similar situation with the D&G service to Chester on Tuesdays only which departs from Nantwich bus station at 9.20am.
Phil added: "D&G has a service to Hanley on Fridays only, which pleasingly departs from Nantwich bus station at 9.31am, so bus passes on this departure are valid.
"So why can't D&G and Cheshire East arrange for the Monday Wrexham bus and the Tuesday Chester bus to depart on or after 9.30am?"
A message from Cheshire East Council transport service to Phil says: "Sorry to hear that you are unhappy with the timing of the 89 service from Nantwich to Wrexham.
"Unfortunately across the whole of the network it is impossible to schedule every journey to operate after 09.30.
"Various things have to be considered such as driving hours and inter-workings with other services.
"The total length of a driver's shift is also an important factor in how timetables are drawn up. I hope that this does not affect your enjoyment of this journey in the future."
A spokesman for Cheshire East Council told Nantwichnews that bosses at Transport Service Solutions – which looks after public transport in the borough – will look at the concerns.
"Bus passes can still be used before 9.30am for half fare travel," said the spokesman.
"Services 89 to Wrexham and 83 to Chester are currently out to tender, with a closing date of Friday November 11.
"Transport Service Solutions will discuss all passenger concerns about the timetable with the successful bidder, with a view to revising the timetable to accommodate post 9.30am bus pass facility."